Canada adds 157,000 jobs, returning numbers back above pre-pandemic levels
Posted: 10.08.2021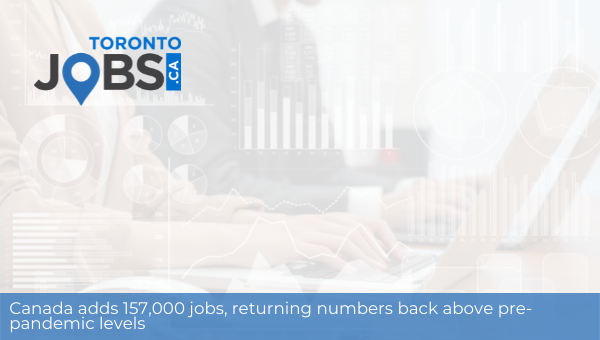 For the fourth consecutive month, employment rose by 0.8% or 157,000 jobs. This increase brought employment back to the same level as in February 2020, just before the onset of the pandemic.
The gains were mostly seen in full-time work and among people in the core age working group of 25 – 54. Increases were spread across multiple industries and provinces.
Full-time worked increased by 194,000 (+1.3%) in September and returned to its February 2020 level for the first time since the start of the pandemic. Women saw the majority of the increase in the month, as their full-time employment rose by 154,000 (+2.3%) with gains across a number of industries including, educational services and health care and social assistance.
The new school year also affected the labour market, typically associated with a rebound of employment rates and hours worked following seasonal declines over the summer.
Key labour market indicators were like previous September's for core-aged mothers whose youngest child was under 13. The employment rate for this group was little changed at 79.4% compared to September 2019, while their average hours worked was little changed at 29.3 hours per week (not seasonally adjusted).
For core-aged fathers, they saw a decline in both their employment rate (down 0.7 percentage points to 86.7%) and their average hours worked (down 1.2 hours to 39.0 hours per week) in September 2021 compared with September 2019.
Service-sector increased by 142,000 and were led by public administration (+37,000), information, culture and recreation (+33,000) and professional, scientific and technical services (+30,000).
Employment in accommodation and food services fell for the first time in five months (-27,000). While employment in manufacturing (+22,000) and natural resources (+6,000) increase, there was little changed in the goods-producing sector overall.
The unemployment rate declined for the fourth consecutive month in September, falling 0.2 percentage points to 6.9%, the lowest rate since the onset of the pandemic.
References:
Statistics Canada
View All Articles