How To Write a Student's Resume With No Experience To Land Your First Job: 4 Tips
Posted: 11.02.2021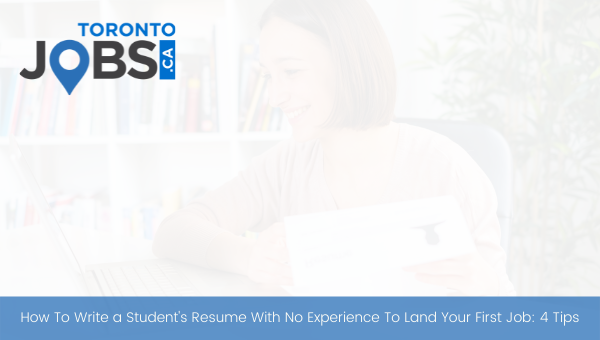 Job hunting as a student is a real Catch-22 situation. On the one hand, you need the experience to get a job. On the other hand, you need a job to get experience. So, you're stuck in the middle, trying to figure how to wriggle your way out of this puzzling maze.
However, we've got good news for you. If you have no experience, you can still land a great job as long as you have the right weapon: a great resume. With no professional or relevant experience, your resume should contain other elements to show recruiters that you're still a great fit for the role.
Let's take a closer look at how to write a convincing college freshman resume to land you a very first job.
What Should Your Resume Contain?
If you're a student with no professional experience whatsoever, your resume should reflect two basic traits. First, you'll need to show that you have the right attitude to work. This involves showing that you have a positive, hardworking, team-playing personality.
Secondly, your resume should also reflect your ability to learn and adapt quickly and get up to speed on the
job role
. But how do you draft your resume to reflect these skills without having to hire an
essay writing service
? It's actually pretty simple. Let's explore the must-have sections of a college student's resume.
Professional Summary
Today, every resume has to contain a professional summary that tells recruiters more about your background and abilities. It's a short statement (about 1-2 lines) that comes immediately after your name and contact information.
Since you don't have any work experience, you'd need to fill your professional summary with alternative information about your level of education, relevant skills, and any professional passions or interests you have. However, it's important to note that this section must be tailored specifically to the job you're applying for.
For instance, if you're applying for a digital marketing role, your professional summary could look like this:
Proactive and detail-oriented aspiring digital marketer currently pursuing a Bachelor of Arts degree in Creative Writing and Publishing. Passionate about SEO and leveraging social media platforms. Interested in obtaining an
entry-level
position in the marketing industry.
Key Skills
Once you've laid out your professional summary, you should then go on to list your skills that are relevant to the job position that you're applying for. You might find this bit confusing if you have no idea which of your skills will be considered "relevant".
However, a great way to get further insight of the skills required for a specific role is by browsing job descriptions for the job title. You'll certainly stumble upon a lot of skills that you can use. For instance, if you're looking for a
digital marketing
role, you could list skills like:
Time management
Data analysis
Communication skills
SEO and SEM
The more relevant and specific your skills section is, the more likely you are to land the job.
Training and Certifications
It's always a great idea to list any relevant training and certifications you have, no matter how insignificant they may seem. List out each training and remember to include where and when you underwent it. For instance, if you're applying for a writing role, you could list your Training and Certifications this way:
Incendiary Writing Workshop, July 2021
Essay and Screenplay Writing
Relevant Personal or Academic Projects
If you're trying to convince recruiters that you're worth a shot, you should also include any personal or academic projects that may be relevant to the specific role you're applying for. It doesn't matter how long ago the project was or how huge it was. All that matters is its relevance.
Let's say you once had a lemonade stand as a teenager and are now applying for the role of a trade assistant in a grocery store. You could list this project as a relevant experience, explaining that you learned the basics of customer service and stock replenishment during this project.
Academic group projects can also sit prettily on your resume if they're relevant to the job role.
Final Thoughts
Although you'd need an insane amount of luck to stumble upon a vacancy that says, "jobs hiring no experience needed", it's not impossible to land a great job as an inexperienced student. All you need to do is to ensure that your resume is articulate enough to pass the 7-second mark with recruiters.
Remember to include any relevant information that you feel might impress recruiters and keep your resume to just one page. No recruiter wants to read long resumes, especially if the candidate has no experience.
Amanda Dudley is an essay writer and lecturer with over ten years of experience in the academic sector. She has a Ph.D. in History from Stanford University and is considered an expert historian and educator. Amanda currently works at a reputable essay writing platform specializing in creating stellar academic papers and dissertations.
View All Articles