Employment holds steady in October, after returning to its pre-pandemic levels in September
Posted: 11.05.2021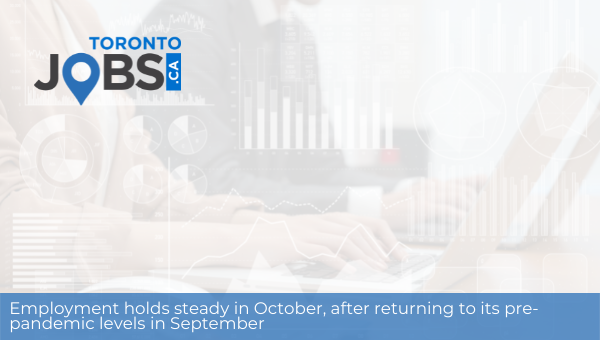 Employment held steady in October after returning to its pre-pandemic level in September.
Employment increases in a number of industries, including retail trade (+72,000), were offset by declines elsewhere, including in accommodation and food services (-27,000).
Full-time employment among core-aged men and women increased last month. Among people of core working age (25 to 54 years), employment rose by 53,000. Full-time employment increased for both core-aged men (+36,000) and women (+30,000). These gains resulted in full-time employment among core-aged men returning to its pre-pandemic level for the first time, while full-time work for core-aged women was 98,000 (+1.0%) higher than in February 2020.
Employment among young men aged 20 to 24 was little changed in October and has not yet fully recovered from losses suffered during the pandemic's third wave in April 2021. In October, employment for this group remained 21,000 below the recent high in March 2021 and 46,000 below its February 2020 pre-pandemic level. Employment among young women in this age group was also little changed in October and continued to trail its pre-pandemic level (-29,000) despite notable increases in June 2021 (+72,000) and September 2021 (+19,000).
Self-employment was the lowest observed since March 2007, trailing its pre-pandemic February 2020 level by 9.7% (-279,000).
Among workers aged 15 to 69 who worked at least half their usual hours, the proportion who worked from home was little changed at 23.8% in October. The number of Canadians who worked from home in October (4.2 million) was only slightly below the level recorded in October 2020 (4.3 million).
The unemployment rate declined for the fifth consecutive month 0.2% to 6.7%.
You can read the full report
here
.
View All Articles