How to Improve Your Emotional Intelligence in a World of Remote Work?
Posted: 11.23.2021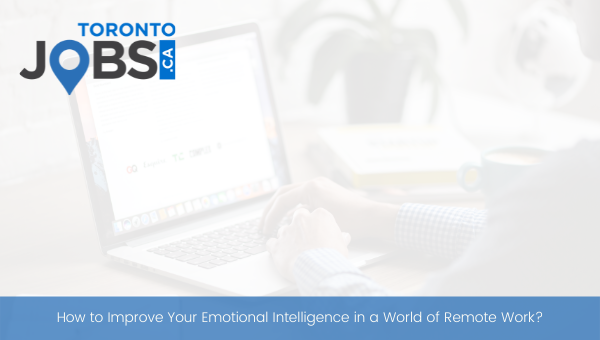 It's important to tap into your emotional intelligence while working from home. However, it can be challenging to achieve this goal especially if your team is new to remote work or they've been forced to get into virtual work suddenly. One of the biggest challenges of remote work is that social interactions are not present. Remote workers also get torn apart between getting down to business and the need to spend a few more minutes socializing with others.
Messages and emails that remote workers send to each other tend to carry extra weight since the non-verbal parts of conversations which usually carry the most information about other people's thoughts and emotions are usually missing. In short, in a remote environment, emotional intelligence requires you to be intentional. So, why is it important to improve your emotional intelligence in the world of remote work?
Importance of emotional intelligence in remote work
Emotional intelligence is an essential competency that allows you to recognize, understand and manage your emotions. And this helps you understand and influence other peoples' emotions. Individuals with high emotional intelligence tend to be less stressed and communicate better than their counterparts with low emotional intelligence. They can easily empathize with others and manage other peoples' emotions. Some of the key aspects of emotional intelligence include:
Maturity
Rapport
Self-awareness
Social skills
In remote work, the methods that we use to leverage our emotional intelligence should shift. However, how we acknowledge and manage emotions should remain the same. Although it's difficult to communicate our emotions virtually or perceive the emotions of our colleagues, the consequences of ignoring emotional intelligence can be devastating. For instance, most of us assume the worst about our social standing or performance without connection and constructive feedback.
Self-doubt can lead to low job satisfaction, disengagement, anxiety, burnout, and even depression. When leaders assume that all remote workers are getting along, the employees' sense of teamwork can get eroded to a point where it needs to be rebuilt completely.
When it comes to improving your emotional intelligence, you need to be intentional to overcome bad outcomes in the remote setting.
Leveraging EQ Remotely1. Self-management is key
In remote work,
self-management
is critical. When you dress up, commute, and sit in your office, you automatically know that you have a lot to do during the workday. However, there are no environmental cues that trigger productivity while working from home. Therefore, you need to find ways to boost your productivity remotely. What helps you to stay motivated and productive is different from your counterparts. You need to delegate tasks and have a routine to start your day so that you can focus on high-priority tasks and complete them on time.
2. Focus on relationship management
You should pay attention to relationship management and social awareness. One of the reasons why we enjoy working with others is developing strong relationships and knowing people beyond their roles in the workplace. Most people have gained friendships in their workplaces. You shouldn't give up on building a relationship just because you work remotely.
Doing so will affect your productivity and prevent you from enjoying the benefits of working in a team. Remote teams should always strive to connect. You'll need to sharpen your observation and listening skills to avoid missing out on opportunities to socialize with others. You should pay attention to your team members' tone of voice, facial expressions, and volume of speech.
Improving your emotional intelligence as a remote worker
Here are a few simple tips that you can use to improve your emotional intelligence as a remote worker:
1. Be organized when communicating via email
Remote workers should take time to explain their ideas and opinions in writing. In the workplace, we usually send short emails that we'll be able to shed more light on later. However, in remote work, such emails can lead to confusion or misinterpretation. You need to clarify your message especially if you are expecting a response. If the message is difficult to understand, you should consider calling your colleague instead of trying to explain everything via email.
2. Ask for feedback
After holding meetings in the workplace, the team usually debrief while grabbing lunch or walking back to their offices. After an online conference or call, this process never happens unless you email or call someone to discuss their thoughts and reactions. Similarly, after giving a presentation, you'll likely get feedback in the office setting. After a Zoom call, you might fail to get constructive feedback from your colleagues. And this will affect your productivity and performance. Always make it a point to call or email your colleagues after a session to ask for feedback or share with them.
3. Start a new routine
Remote workers should always make time for connection. Before starting your meeting, you should allow five to ten minutes to find out how every team member is doing. Ask your team members to arrive a few minutes earlier to socialize.
Keep in mind that people might feel uncomfortable speaking on conference calls and they will require to invite them directly by name for them to share. Another great way for maintaining connection is by encouraging them to keep their chats open during a specific time of the day. People will
communicate
with each other when they know that their messages will be read and responded to in time.
4. Celebrate
Do you encourage team members to celebrate their birthdays and other special moments such as the birth of a baby in the workplace? If yes, you should keep this tradition alive when working remotely. Send gifts and treats to the guest of honor and other guests. Use technology as much as you can to gather and celebrate the special occasion.
5. Ensure that team members are taking care of themselves
You need to encourage your team to relieve stress and anxiety by taking time to care for themselves. You need to lead by example.
Conclusion
Are you ready to start improving your emotional intelligence remotely? Use the tips that we've discussed here to achieve this goal quickly and easily.
Author Bio:
Leon Collier is a blogger and academic writer from the UK. He is always focused on proving his worth as a writer in new and challenging writing areas. His hobbies are reading books and playing tabletop games with his friends. You can reach him via Twitter @LeonCollier12.
View All Articles