Employment rose by 154,000 in November; Statistics Canada
Posted: 12.03.2021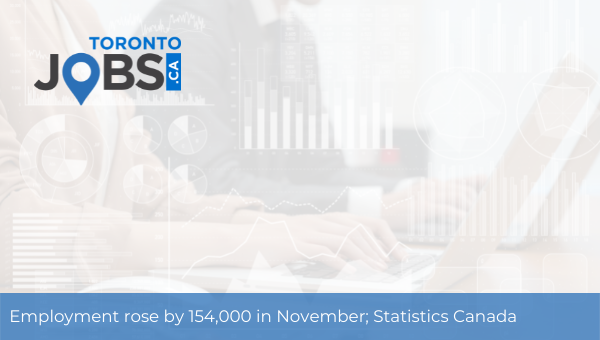 The economy added 154,00 jobs last month and was 1.0% (186,000) higher than its pre-COVID February 2020 levels.
Particularly in November, there was record high employment rate among core-aged women. More than 8 in 10 (80.7%) core-aged women aged 25 to 54 were employed in November, the highest employment rate recorded since comparable data became available in 1976 and 1.0 % higher than in February 2020. Employment among core-aged women grew 66,000 last month, primarily in full-time work.
Among core-aged men, employment rose by 48,000 in November, with gains entirely in full-time work.
The proportion of people working from home (between the ages of 15-69) held steady at 23.5% last month for the third consecutive month with little changes. The number of Canadians working from home was unchanged from October at 4.2 million but was down about 400,000 compared to 2020 November.
Working from home remains much more common among professional occupations which typically require university education at 46.0%, than among occupations that usually require a high school diploma or less at 8.0%.
The number of private-sector employees rose 107,000 (+0.9%) in November, while there was little change in public sector employment.
The unemployment rate fell 0.7 percentage points to 6.0% in November. This was the sixth consecutive monthly drop and the largest decline since March 2021. Prior to the pandemic, the unemployment rate had hit a record low of 5.4% in May 2019 and was 5.7% in February 2020.
References:
Statistics Canada
View All Articles