Job Search Tips Over the Holiday Season
Posted: 12.14.2021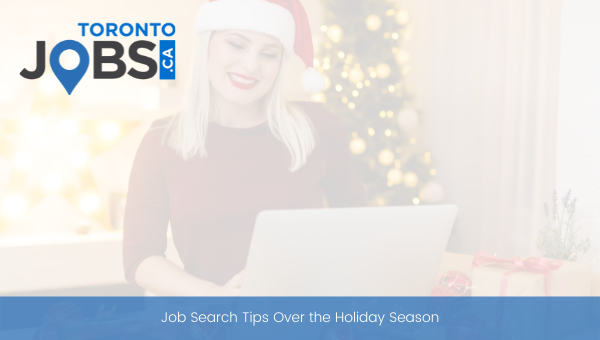 The holidays are just around the corner, so you may be thinking it's time to wind down on your job search until the new year. It's understandable – with holiday shopping, virtual and/or in-person holiday work events, year-ends, and the likes – you may need a bit of a break.
However, by maintaining your efforts to search for a job, you can actually improve your chances of finding a new job and get you ahead of the curb in the new year.
Below we outline job search tips over the holiday season.
1. Employers are still hiring and there may be less competition.
There are a lot of different reasons as to why an employer may be hiring over the holiday season:
They have more time for recruiting near the end of the year
Year-end calculations allow for new hires in the new year
Employers are looking for more staff to strengthen financial and productivity goals for the following year
Whatever the reason is, we think job seekers should take advantage of that and continue to put themselves out there to companies. In addition, as a result of the holiday season, you may find that you are up against fewer candidates during the hiring process.
2. Update your LinkedIn profile.
When was the last time you updated your LinkedIn profile? If you haven't updated it all this year, it may be a good time to check up on your profile if it needs a little brushing up. Do you need to add any new responsibilities or certifications to your profile? How long has it been since you've updated your profile photo?
3. Continue to make new connections.
LinkedIn can be an amazing tool to help you network with other professionals in your industry and you never know what connection can lead you to your next opportunity. And networking doesn't have to mean directly reaching out to hiring managers, it can also be:
Commenting on a colleague's post
Engaging with others in groups
Sharing some of your own content
Creating a poll
Don't be afraid to get creative!
4. Spend some time updating your skills.
Carve out some time during your days off to learn a new skill or improve current ones. We know you don't want to spend all of your holidays focusing on a job search but try dedicating a day or maybe even an hour each day, thinking about how you can enhance your cover letter and resume and how you can bring more value as a candidate.
5. A temporary holiday job, may turn into a permanent one in the new year.
A lot of people get discouraged by part-time or contract work because of its limited hours, less pay, and no benefits, but it can have its advantages:
Your position could turn into a permanent, full-time gig
Helps you get your foot in the door if you are a recent graduate
It can help you gain experience if you are a new graduate or changing careers
A networking opportunity that can lead you to your big break
Especially during the holiday season, a lot of companies may only be offering contract/part-time roles, but we don't want you to shy away from that because there can be a lot of benefits that come from taking a position like this.
Ready for a new way to get hired? Guhuza is a revolutionary recruitment platform that offers job seekers the ability to interview live directly through our platform. No more applications and no more waiting for a call or email.
Learn more and register
here
.
View All Articles