How Employers Can Prepare for the 2022 Job Market
Posted: 01.06.2022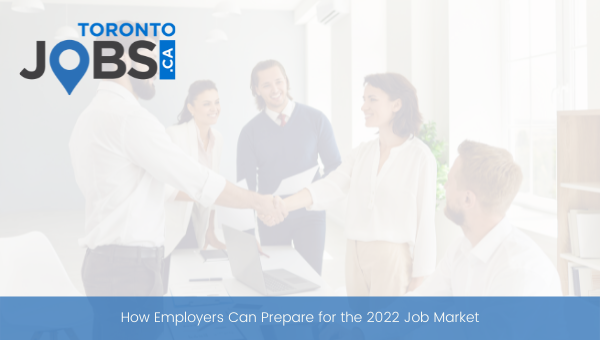 There have been a lot of ups and downs for employers since the pandemic hit in March of 2020.
Many employees were laid off, the staff that remained started working from home, hiring managers shifted to virtual hiring and onboarding, the demand for better mental health assistance rose, and some organizations had difficulty finding staff.
What will recruiting and job market trends look like this year? In this article, we'll discuss five.
1. Labour shortages will continue.
Powdersville Post CEO Nikki Attkisson believes "it will still be a job seeker's market." This means that new graduates or novice candidates may have a better shot at that company or position they've been eyeing, as employers could be more opted to hire newbies on a contract basis for cheaper and train them on the job.
2. Higher salaries in lower-tier spheres.
Founder and Managing Director of Intrinsic Search Paul French says, "Labor shortages resulting from an amalgamation of factors such as retiring workers, an aging workforce, and limits on immigration will continue to push employers to raise salaries to attract top talent."
3. Employee experience will be a focus.
COVID-19 has had and is still having a major impact on everyone's mental health, which is why there has been an increased demand for better perks and benefits employers offer their employees in regards to it.
President and CEO of HR Strategy Firm SDS Global Enterprises Dr. Shirley Davis says, "Diversity, equity, and inclusion is going to continue to be a primary focus in 2022 for job seekers. 80% of workers have also said that they want to work for a company that is diverse and that values equity and inclusion."
Employees want to feel accepted, appreciated, happy, and know that they will have the tools and resources they need to be successful.
4. Hiring process will be faster.
With the combination of difficulty finding staff from last year and the proposed labour shortage this year, employers may want to secure candidates faster.
Chief People Officer for Happy Lisa Hennessey says, "for job seekers, this will mean that you may have multiple companies running you through their recruiting process quickly to beat the competition to offer."
5. Remote working skills will be in high demand.
There are many organizations that have permanently closed their offices and will continue working from home beyond the pandemic, which will demand for a lot of skill changes for new hires.
Hiring managers will be looking for job seekers that are tech savvy familiar with programs like ZOOM, can troubleshoot tech and network issues, strong communication skills, focus and attention, accountability, decision-making, and the like.
Employers will want to know that they can trust the employees they hire to get the work done, communicate when things go wrong, and troubleshoot and improvise when needed.
What do you think recruiting and the labour market will look like in the coming year? How have you pivoted your business and your hiring practices as a result of the pandemic? Let us know by sending us an email at
info@TorontoJobs.ca
.
Looking for a new way to recruit talent? Learn more and register now at GUHUZA – our new revolutionary recruiting platform:
https://guhuza.com/employer
Written with references from:
Go Banking Rates
TorontoJobs.ca is a full-service recruitment organization, including TorontoJobs.ca Website, Career Fairs, full-service Recruitment Division and Outplacement Services. The local focus and advanced features make TorontoJobs.ca a vital asset for both job seekers and employers within the Greater Toronto Area. Visit our Online Career Centre for additional articles on Career Development, Personal Branding and more!
View All Articles