Employment Growth Continued in December, adding 55,000 jobs
Posted: 01.07.2022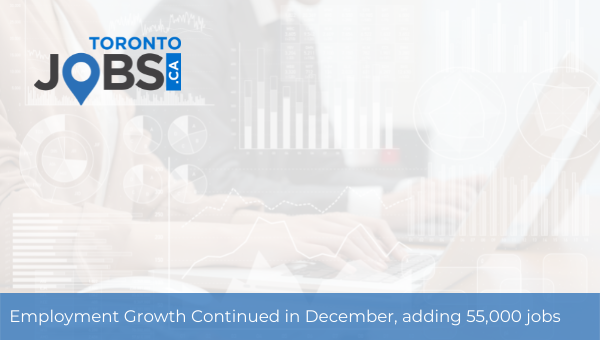 Employment rose by 55,000 last month, driven by gains in the goods-producing sector (+44,000).
Full-time employment rose by 123,000, while part-time employment declined by 68,000.
Employment increased among core-aged men (ages 25 to 54) by 63,000, making it higher by 162,000 than in February 2020. Employment has also trended upwards for core-aged women since June and was 130,000 above its pre-pandemic levels in December.
Public sector employment continues an upward trend, while self-employment remains flat. Public sector employment rose by 32,000, while the private sector and the number of self-employed workers remain little changed.
The number of people working from home was little changed last month at 23.8%. The proportion of Canadians working from home has remained stable since August 2021. Compared with December 2020, there were 500,000 fewer Canadians working from home. In 2020, the number of workers working remotely had increased steadily in the fall during the second wave of the COVID-19 pandemic.
Average hourly wages have increased over the past 12 months by 2.7% (+$0.80). on a year-over-year basis in December, similar to the average pace of wage growth observed over 2017 to 2019 (+2.6%).
The unemployment rate was at 5.9% in December, little changed from November. The rate was slightly above its pre-pandemic February 2020 level (5.7%), and within 0.5 percentage points of the record low of 5.4% observed in May 2019.
References
Statistics Canada
View All Articles