One-in-three Canadians struggling with their mental health, study shows
Posted: 01.26.2022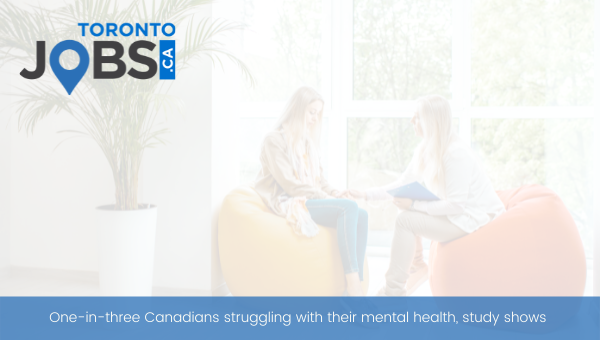 A new
study
has found that one-in-three Canadians are struggling with their mental health.
The study was done by
Angus Reid Institute (ARI)
,
a national, not-for-profit, non-partisan public opinion research foundation.
Prior to the Omicron wave, the study found that 25% of Canadians were struggling with their mental health. Following this wave, now one-third or 35% of Canadians say they are having difficulty. In addition, 7% of Canadians say they are feeling terrible, which is nearly double the amount measured at any point since October 2020.
The study also found that younger Canadians, among the ages of 18 to 34 years, nearly half of men (47%) and half of women (51%) say they have been feeling terrible over the last couple of weeks.
When offered a selection of words to describe how Canadians are feeling:
47% of respondents selected fatigued
40% say they have been feeling frustrated
37% were feeling anxious
The study notes that these feelings were different based off gender and different age groups. Women under the age of 55, for example, were more likely to feel fatigued and anxious than any age group.
The findings reference a study done by
Statistics Canada
, which notes that overdoses and alcohol-related deaths have increased since 2020. The study finds nearly half of Canadians (47%) say alcohol abuse is a problem among their social circle, while 29% say drug addiction is a problem.
Two-thirds of people believe their loved ones have increased struggle with anxiety and depression since 2020. The study notes the numbers are worse for younger Canadians between the ages of 18 to 34:
77% of men think anxiety and depression has increased among their circles
76% of women also feel they have seen the same
63% of men believe drinking problems have increased
60% of women also feel alcohol-related issues have risen among their peers
In terms of talking to friends, family, or a therapist about mental health struggles or alcohol and drug-related issues – that number varies based on gender and age, according to the study. Some findings include:
32% of Canadians say they talk to their family
30% say they talk to their friends
31% report someone in their household has seen a therapist, psychologist, or psychiatrist at least once in the last year
30% say they've received a prescription to treat a mental health issue in that time frame
How Can You Improve Mental Health and Wellbeing?1. Exercise
Research has shown that regular physical activity appears as effective as psychotherapy for treating mild to moderate depression.
It can reduce anxiety, with people reporting less stress and less nervousness.
Moods such as tension, fatigue, and anger are all positively affected by exercise.
Exercise brings people together, particularly group fitness classes, which can help increase overall mental wellbeing with people who share similar interests to you.
2. Healthy Eating
The Canadian Mental Health Association (CMHA)
references a
study
done by the UK's Mental Health Foundation and they suggest that "poor diet has played a role in a significant increase in mental health problems over the past 50 years."
The study says that a poor diet can prevent the "brain from functioning properly and links to health issues like Attention Deficit Hyperactivity Disorder, Alzheimer's disease and schizophrenia."
CMHA adds that vitamin deficiencies from a bad diet can also manifest themselves as "depression and can cause mood swings, anxiety and agitation, as well as a host of physical problems."
Eating a well-balanced diet of fruits and vegetables, whole grains, foods high in omega-3 fatty acids, and protein can help our mental health being a lot.
3. Managing Stress
In order to monitor your stress levels, it's important to understand where your stress comes from. Whether it comes from something external, like the pandemic, or internal, like negative self-talk, if you learn to recognize these signs, you can try some of these techniques below to help manage your feelings:
Practice mediation or breathing exercises
Maintain a moderate exercise regimen
Learn to say "no" when things become too much
Find a hobby or a favourite pass time to bring some joy into your life
Talk to a family member or friend about what you are struggling with
References:
Angus Reid Institute Study
Canadian Mental Health Association (CMHA)
View All Articles