Phone Interview Mistakes and How to Prevent Them
Posted: 02.01.2022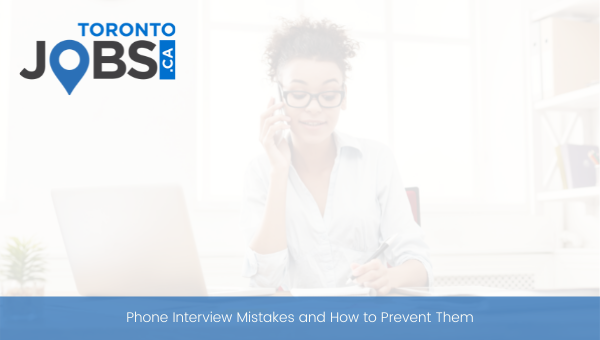 We know that phone interviews can be tough. The process completely comes down to verbal communication, eliminating other facets like body language and eye contact that can help the recruiter or interviewer learn more about who you are.
So in this article, we are going to provide you with five tips to help you stand out during your next phone interview.
1.
Eliminate awkward greetings or introductions.
When answering your phone, try to visualize yourself picking up the phone in the office to talk to a client or customer. How would you answer the phone? Recruiters and employers want a candidate that can answer the phone confidently. If you sound timid, you run the risk of coming off ill-prepared or unexpected. Try answering the phone by saying something like "Hi there! This is Robert!" or "Good Morning! You've reached Robert!"
2. Be visual.
As mentioned, phone interviews are completely about verbal communication, so when answering a question, ensure you provide as much detail and information as possible to help the interviewer visualize you and get to know you. For example, if you are asked the question, "How did you handle your last mistake?" Don't just describe how you handled your last mistake on the job, go into detail about why you think you made that mistake and how you improved or changed your ways in order to prevent that mistake again – not just how you reacted when it happened.
3. Show that you have actually read the job description or researched the company.
A phone interview is kind of like an open book test, you can have your laptop open on the company's website or job description and have it right in front of you to help answer the interviewer's question. You don't want to do that, however, as you will just be re-reading or regurgitating what they already know. Instead, be more specific when referencing the description or company. You can ask them to elaborate on certain aspects of the job or ask the employer to elaborate on what they mean by working in a positive work environment. It will show that you are taking a deeper interest as opposed to reading what's in front of you.
4. Don't ask overly specific questions.
Phone interviews aren't usually the final step in an interview process, oftentimes it's used to screen candidates before they come in for a physical interview (or ZOOM interview with the pandemic). This means that it's likely the person on the end won't know specifics about the job. You don't want to waste what little time you have during the phone interview doing that. Instead, ask more overarching questions like what's your experience like working at the company or what sort of personal development incentives does the company offer?
5. Don't ask how you did during the interview.
Refrain yourself from asking at the end of the interview how you did. The recruiter won't be able to disclose that for you, especially since the phone interview is more likely than not part of the screening process, with the recruiter passing on their notes to the Manager of whatever department is hiring. If you want to be bold, you could try reaching out to the person hiring in that department, opening up a dialogue and reiterating why you want to work there and what you are most excited about. If they come back and tell you that unfortunately, you didn't make the cut, try asking what areas you can improve on to help you get better results. There is never harm in asking and many are happy to discuss in a short email.
Written with references from:
The Financial Diet
.
Ready for a new way to get hired? Guhuza is a revolutionary recruitment platform that offers job seekers the ability to interview live directly through our platform. No more applications and no more waiting for a call or email.
Learn more and register
here
.
TorontoJobs.ca is a full-service recruitment organization, including TorontoJobs.ca Website, Career Fairs, full-service Recruitment Division and Outplacement Services. The local focus and advanced features make TorontoJobs.ca a vital asset for both job seekers and employers within the Greater Toronto Area. Visit our Online Career Centre for additional articles on Career Development, Personal Branding and more!
View All Articles