3 Tips to Get Your Employees Onboard with Company Strategic Plans
Posted: 02.02.2022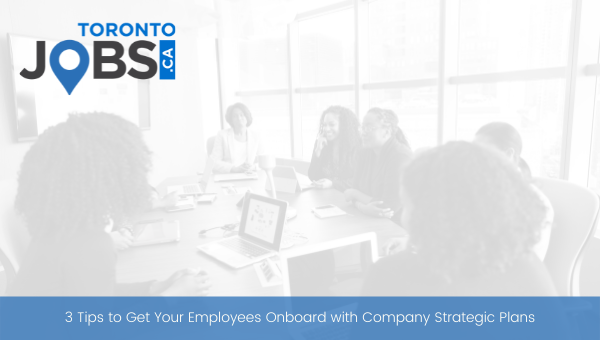 Change can be scary. Not just in your personal life, but in our work lives too.
The pandemic was quite the shift for many employers and employees. Many were (and are still) feeling a lot of stress and anxiety surrounding COVID-19, with many concerned about the impacts on their mental health, health and safety in the workplace, and the economy.
This is why it's important as an organization to implement changes in an effective and comforting way, especially with the still lingering impact of the virus.
Below we have three tips to help get your employees on board with your company's strategic plans.
1. Highlight why the change or upgrade is important.
Discuss how these changes will benefit your employees, which in turn will help increase the overall productivity of the company, thus creating less strain or stress. Your employees want to know that these changes aren't coming about just as a means to benefit the company – you want them to know that their wellbeing matters too.
For example, let's say you're planning on implementing a new software system. You could let your staff know that it will help to eliminate one extra step required to be completed by employees, which will help alleviate time constraint issues among your staff.
2. Get your employees involved.
When rolling out a new marketing plan, sales goals, or software, you want to make sure your employees feel more involved in the process. This will help to make your staff feel more at ease about the changes and gives them more motivation to be part of the process of implementing them.
Communicate consistently with your staff throughout the implementation process. Ask them for feedback – what do they like or don't like about the new plan and actually attempt to test out your employees' suggestions. You may find that their ideas are way more efficient or even better than the original pathway.
3. Find ways to celebrate.
Change can sometimes take months, even years, so it's important to celebrate milestones, tasks, and achievements along the way to help your employees feel motivated. Whether it's finishing an investor presentation, a sale, or mastering a technical speedbump, celebrate it with your employees for all their efforts and hard work.
Conclusion
When implementing change in your organization, there will always be some staff members that don't necessarily agree with your strategic plan. Prepare how you will handle resistance. You'll want to ensure that you reiterate how the change can benefit these employees – provide specific, relatable answers for them. You can also provide additional coaching and support for those who feel more anxious. Perhaps these employees can get additional training to make them feel more at ease. For example, if you're implementing a new marketing tool, is there a way you can provide more training?
Written with references from:
BDC
TorontoJobs.ca is a full-service recruitment organization, including TorontoJobs.ca Website, Career Fairs, full-service Recruitment Division and Outplacement Services. The local focus and advanced features make TorontoJobs.ca a vital asset for both job seekers and employers within the Greater Toronto Area. Visit our Online Career Centre for additional articles on Career Development, Personal Branding and more!
View All Articles