Employment declines in January during the fifth wave of pandemic
Posted: 02.04.2022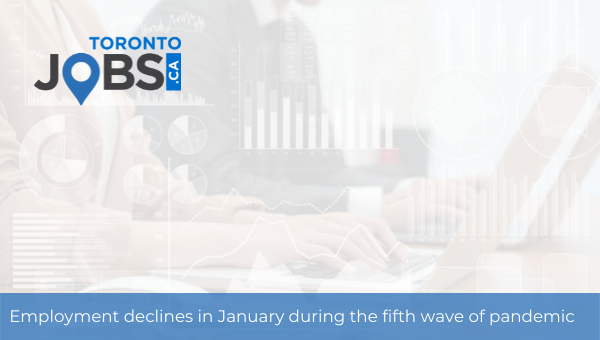 Employment fell last month by 200,000, spread between both full-time and part-time work.
Part-time employment fell below its pre-pandemic levels after having recovered at the end of 2021 (-117,000; -3.3%), while full-time employment remained higher than in February 2020 (-83,000; -0.5%).
All of the decline in January was among private sector employees, but the number of employees in the private sector was essentially the same as in February 2020. There were large losses in the accommodation and food services, information, and culture and recreation industries (most likely due to the restrictions in January).
The unemployment rate for youth ages 15 to 24 rose by 2.5% to 13.6% last month. Increases were seen among both young men (+2.7% to 14.9%) and young women (+2.3% to 12.3%).
Women in the core working age group of 25 to 54 also saw an increase in their unemployment rate (+0.6% to 5.3%), while the rates among core-aged men and people aged 55 and older were little changed.
As a result of the restrictions implemented last month, there was an increase of people working from home due to the Omicron variant of the corona virus. More than 4 in 10 (43%) worked most of their hours from home. Those who usually don't work from home, 30.3% worked at home for at least part of the week. In addition, many who don't normally work from home (like educational services or social assistance) also worked from home during this time.
For a quarter of Canadians, working from home has become the new long-term reality. The majority of workers or 72.1% reported they usually work only at locations other than home, 24.3% reported that right now they usually work exclusively at home. Comparing the 2016 Census of Population reported that 7.5% of people worked at home.
The unemployment rate was at 6.5%, up 0.5% from December 2021.
You can read the full report
here
.
View All Articles