Why Encouraging Employees to Take Vacation Can Have More Benefits Than You Think
Posted: 02.11.2022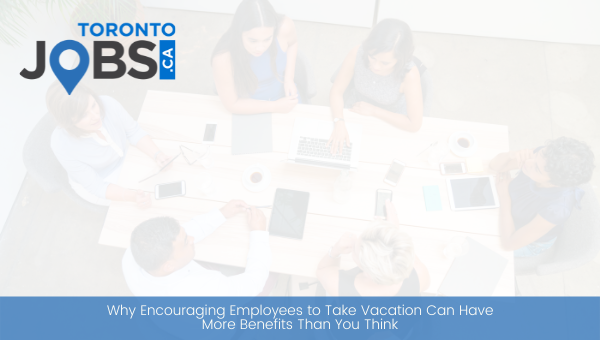 Canada has one of the highest amounts of unused vacation days in the world. Each year 7% of vacation days go unused, as per an
Expedia survey
. You'd think that taking vacation days would be high on the priority list for employees, but there are many reasons why this isn't the case.
Encouraging your staff to take their vacation throughout the year has benefits for both employee and employer. In this guide, we'll look at the reasons why vacation days aren't taken, the benefits of taking them, and how to encourage your staff to take paid time off.
Why aren't employees taking vacation days?
In the modern workplace, more people are career-driven than ever before. This leads to many employees not using their full entitlement of vacation days. But, there are many reasons behind this:
Fear of returning to a high workload: Many employees feel if they have time away from the office, they'll return to a mountain of emails and work. Although this may be the case, vacations can be used to relax and return to work with a fresh mind ready to tackle it head-on.
Staff don't want to be seen as replaceable: Some employees feel that if they take time away from the office, management may look to replace them. This is especially prominent during busy periods of the year, such as the summer or holidays.
Wanting to show continued job dedication: Some staff want to avoid taking paid time off so they can show their dedication to their role. It's a myth that taking a vacation can hinder any development goals.
Vacation rollover: Some companies allow unused vacation days to be rolled over. Employees may not feel they need to take them.
Inability to switch off: Arguably the most common reason behind vacation days not being taken is that some employees struggle to switch off from work. Even when they do take time off, they'll constantly be on their work phone or checking emails.
Why taking a vacation is important.
Employees taking their vacation days should be one of your priories. There are unarguable benefits for both employee and employer in doing so:
An increase in productivity: Vacation time allows employees to relax and recharge their batteries. This will lead to an increase in productivity, staff morale, quality of work and profits.
Greater employee engagement: Time off work will allow employees to return to the office fresh, switched on and more engaged. A more engaged workforce will lead to an increase in morale and productivity.
Increased retention and decreased employee turnover: Employees who feel engaged, happy, and relaxed are more likely to stay with the company. This saves you time and money in the long run.
Avoids employee burnout: If a vacation isn't taken, especially during busy periods – employee burnout could be a factor. This will have detrimental effects for your company and could lead to a staff shortage and people looking for other work.
Avoid being overwhelmed with vacation requests: The last thing you want is to become overwhelmed with vacation requests during the holidays, leaving some staff disappointed.
Ways to encourage your staff to take a vacation.
As discussed previously, encouraging your staff to take p is extremely important. There are many ways in which you can do this:
Communicate with your staff: Explain to your employees the differences that rest and recuperation can make to them professionally.
Lead by example: Take time off work yourself, that'll show your employees that it's okay to have time away from the office.
Rewrite your vacation policy: Freshen up your vacation policy and make it easier for staff to request time off, this could lead to an increase in requests.
Limit vacation rollover allowances: By reducing or even removing vacation rollover entirely, staff have to take their vacation days.
This article was provided by Hope McManus at BrightHR. Providing HR management software used to reduce employee turnover, boost productivity, and make your business a success.
View All Articles