4 Ways You Can Improve Gender and Diversity at Your Company
Posted: 03.16.2022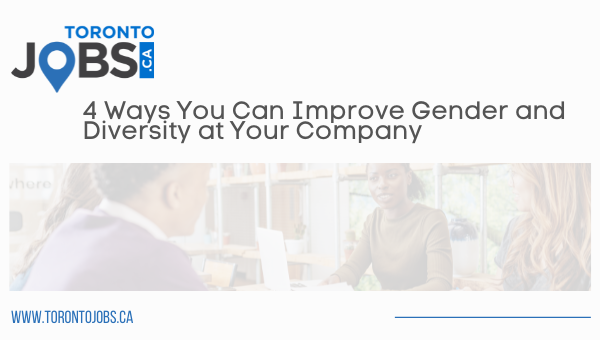 Are you looking for ways to improve gender and diversity at your company, but aren't sure how to do it? In this article, we'll discuss some tips on how you can start implementing strategies to help create a more inclusive environment.
There is so much value in creating an equal working environment – these companies tend to have aspects like enhanced collaboration, improved staff retention, better leadership representation, and more compared to organizations that don't.
Continue reading below to start implementing these tactics now!
1. Diversity training.
There are mixed reviews about implementing diversity training in the workplace, but it's a good starting point to help your organization start the process of creating a more inclusive environment. Diversity training includes topics like unconscious bias, sensitivity training, and the likes. From here, you can pivot to more specific tactics.
2. Create an Employee Resource Group.
These types of groups are created based on characteristics like gender, race/ethnicity, sexual orientation, etc. They are created to help bring more awareness about gender and diversity in the workplace. They can help by assisting the company to tap into different resources, training methods, increased engagement among employees, etc.
3. Have more flexible working arrangements.
One of the things the COVID-19 pandemic has done is show companies that their employees can work from home and work flexible hours. So if this is something that your company started doing when the pandemic first hit, think about whether this is something you can continue offering at your company. This is something that is particularly beneficial to women in the workplace. Often women face work and personal life balance and struggle when they decide to become mothers. Finding ways for women to not feel in conflict with this is to provide flexible working environments.
4.
Collect data.
Another way to start improving equality in the workplace is to collect data among your employees. For example, you can start to do something like pay audits regularly to review how men and women are getting paid in your workplace. By collecting this type of information, you can see firsthand where certain discrepancies are and make changes accordingly.
What are you doing as an organization to improve gender and diversity in the workplace? Let us know by emailing
info@TorontoJobs.ca
!
Written with references from:
Canadian Business
Tired of searching for candidates the traditional way? Have you heard of our new revolutionary recruiting platform called Guhuza? Click
here
to learn more and connect instantly with local job seekers using our advanced technology.
TorontoJobs.ca is a full-service recruitment organization, including TorontoJobs.ca Website, Career Fairs, full-service Recruitment Division and Outplacement Services. The local focus and advanced features make TorontoJobs.ca a vital asset for both job seekers and employers within the Greater Toronto Area. Visit our Online Career Centre for additional articles on Career Development, Personal Branding and more!
View All Articles