Study shows 43% of Canadian office workers want to continue working from home post-pandemic
Posted: 03.24.2022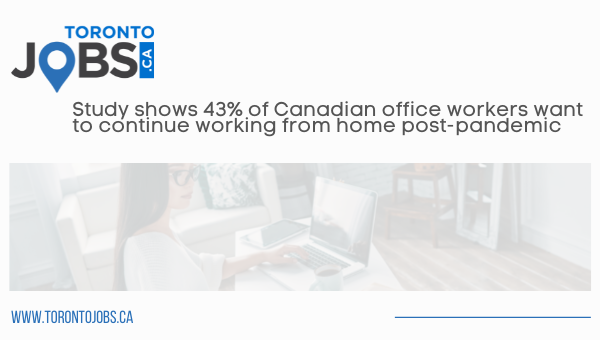 A new survey shows that 2 in 5 or 43% of Canadians would consider looking for a new job if their employer mandated that they need to return to the office on a full-time basis.
The Amazon Business Return to Office Report
surveyed nearly 1600 Canadian office workers. It was conducted in two waves, in December 2021 and February 2022, among members of the online Angus Reid Forum on behalf of Amazon Business.
"It's clear that the role that the physical office plays in the day-to-day work and satisfaction of employees has changed dramatically during the pandemic. We're not going back to how things were before, and businesses need to adjust to the many operational realities that come with that," says Nick Georgijev, Country Manager for Amazon Business Canada.
The survey also showed that 3 in 5 or 57% of Canadians would prefer to either split their time equally between in-office and remote (27%) or work mostly remotely (3+ days per week – 30%). Those polled say that salary increases, better benefits, and more vacation would entice them to come back to the office on a full-time basis.
More than half or 55% also said that they would be less likely to accept a job if the employer mandated full-time work in the office. The survey also noted that aspects like flexible hours and the ability to work remotely were key factors Canadian office workers looked for when looking for a new job over things like company culture, training, or advancement.
"Canadian employers will need to consider not just how and when to bring their employees back to the office, but if they should... and how to set that talent up for success from anywhere if they don't return entirely," says Georgijev.
Only 1 in 8 or 12% said that working entirely at their physical workplace is their ideal working scenario moving forward post-pandemic.
One-in-three or 32% of office workers that worked from home during the pandemic received a stipend to purchase home office equipment and supplies. Only 31% believe this will continue moving forward.
For those that returned to the office before the Omicron wave, nearly two-thirds or 63% say they were doing most of their meetings via video. Only 1 in 7 or 15% say that they had most or all their meetings in-person.
"Employers need to reconsider everything about their physical working spaces to meet the changing demands of their current and future workforce. […] Those that adapt best and quickest will have a strong advantage, particularly if they provide their teams the means to thrive while working remotely," says Georgijev.
You can read the press release
here
.
View All Articles