Career Spotlight: Jesse Mack
Posted: 04.25.2022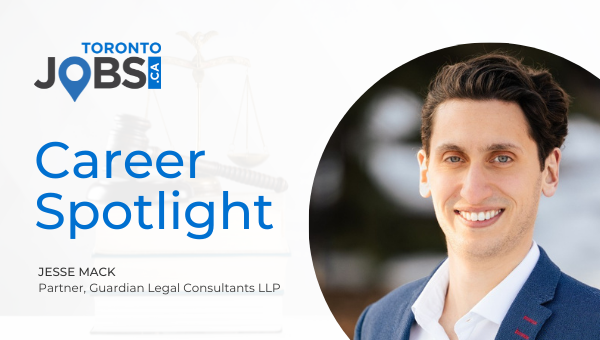 To help job seekers learn about the career path they are interested in pursuing, TorontoJobs.ca has created a new segment called: "Career Spotlight."
Each article will spotlight an expert in a particular field where we ask them questions about how they got to where they are, what are the responsibilities of their role, their favourite part of the job, and words of encouragement for those aspiring to follow in their footsteps.
In this Career Spotlight Segment, we'd like to introduce Jesse Mack, Partner, Guardian Legal Consultants LLP.
What inspired you to choose this career path?
I chose to become an employment lawyer because all of the cases were unique and personal stories. There isn't a day that passes where I don't come across a new issue.
What program did you graduate from?
I graduated from the University of Windsor's Law School.
What are your responsibilities in your role?
I assist both employers and employees with any issue related to the workplace. On the employer-side, I assist with contract and policy drafting, defending litigation claims and providing general day-to-day advice on best practices and compliance. On the employee-side, I generally provide assistance with wrongful dismissal claims and contract interpretation.
What's challenging about your job?
Similar to criminal or family law, employment-law is very personal. In most situations, someone has lost their job. Regardless of whether I am assisting the employer or employee, it is hard not to feel empathy when dealing with that situation.
What's the most rewarding aspect about your role?
Client satisfaction. What drives me to keep going each day is the positive result and feedback I receive from my client once a case is resolved. My clients appreciate hard-work.
What advice do you have for job seekers who are interested in this line of work?
I would like to say "hard work", but that should be a given with any profession. I believe attention to detail is the biggest factor in helping someone become successful in this profession. Don't read things twice, read things four times!
You can find Jesse here:
Website
|
LinkedIn
View All Articles