Unemployment rate continues to decline, reaching record low in April
Posted: 05.06.2022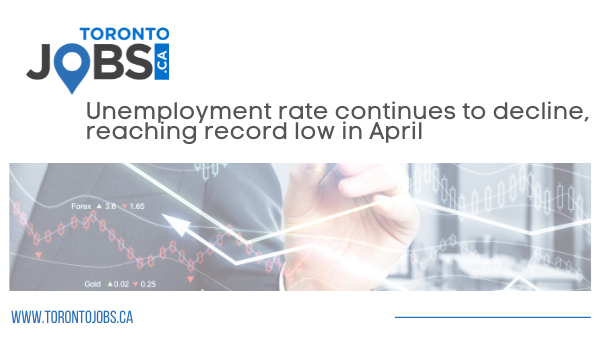 There was a slight change in last month's employment rate, after two consecutive months of growth.
The employment rate held steady at 61.9%.
Employment among core-aged women (25 – 54 years old) grew by 43,000 or 0.7 percentage points. All gains were in part-time work. Employment among core-aged men saw a decline last month of 36,000 or 0.5 percentage points, primarily in part-time work. These offset gains made by core-aged women.
Employment was unchanged in both the goods-producing and services-producing sectors. Specifically, employment in professional, scientific, and technical services is increasing faster than total employment.
The number of people working in that sector saw an increase of 15,000 or 0.9 percentage points in April. Since April 2021, employment growth in these industries has increased faster than total employment growth by 121,000 or 7.3 percentage points compared to 965,000 or 5.2 percentage points. Growth in this sector is driven by an increase in the number of employees.
Total hours worked were down by 1.9 percentage points last month, partly due to an increase in illness-related absences.
After rebounding from February losses in March, employment increased by a further 17,000 (+1.5%) in public administration in April, notably in Quebec (+6,700; +2.5%). Employment in the retail trade was down for the first time since January 2022.
After reaching a record low of 5.3 percentage points in March, the unemployment rate edged down 0.1 percentage points to 5.2% in April.
The unemployment rate for people aged 25 to 54 fell 0.2 percentage points to 4.3%, the lowest recorded rate since comparable data became available in 1976.
To read a more detailed report, you can view it
here
.
View All Articles