5 TED Talks Every Recruiter Should Watch
Posted: 06.09.2022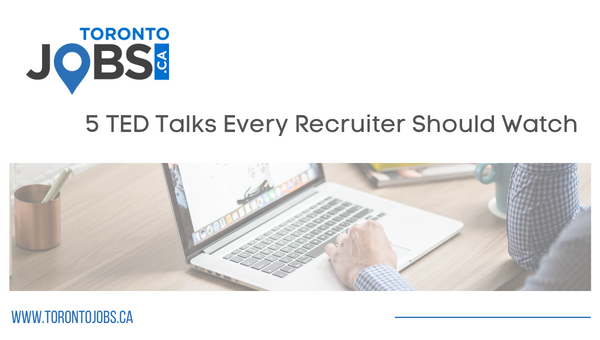 Hiring is an everchanging industry, so whether you are a newbie or a veteran at recruiting, keeping up to date with the latest trends and research is always a must.
So in this article, we have found five TED Talks that are worth watching by every recruiter, hiring manager, or human resource professional.
1. "Why the Best Hire Might Not Have the Perfect Resume," by Regina Hartley
"Human Resources Executive Regina Hartley discusses giving the "scrapper" applicant a chance given the choice between a job candidate with a perfect resume and one who has fought through difficulty and talks about her reasons why."
Watch here:
https://www.youtube.com/watch?v=jiDQDLnEXdA
2. "10 Ways to Have a Better Conversation," by Celeste Headlee
"Celeste Headlee has worked as a radio host for decades and knows the ingredients to a great conversation. Watch this TED Talk as she discusses 10 useful rules for having a better dialogue."
Watch here:
https://www.youtube.com/watch?v=R1vskiVDwl4
3. "The Case for a 4-Day Work Week," by Juliet Schor
There has been a lot of buzz lately about the four-day work week. So in this TED Talk, Economist Juliet Schor says "the traditional approach to work needs a redesign. She is leading four-day work week trials in countries like the US and Ireland and the results have been very positive."
Watch here:
https://www.youtube.com/watch?v=MyVfUaXyyqo
4. "How to Reduce Bias in Your Workplace," by Kim Scott and Trier Bryant
"We all have bias – especially unconscious bias – and if gone unchecked, bias can make employees feel resentful, frustrated, and silenced. So in this TED Talk, Just Work Co-Founders, Author Kim Scott and CEO Trier Bryant discuss three ways to reduce bias at work."
Watch here:
https://www.youtube.com/watch?v=VEP7_BeXH64
5. "How to Make Work-Life Balance Work," by Nigel Marsh
"Work-life balance is too important to be left in the hands of your employer, says Nigel Marsh. So in this video, he lays out an ideal day balanced between work, family, and personal time."
Watch here:
https://www.youtube.com/watch?v=jdpIKXLLYYM
---
Have you heard of our new recruiting platform called Guhuza? Click
here
to learn more and let Guhuza connect you instantly with local job seekers using our advanced technology. Stop manually searching for your next hire!
In partnership with TorontoJobs.ca.
View All Articles