Getting Your Dream Job Takes a Lot of Hard Work: Here Are 5 Tips
Posted: 07.28.2022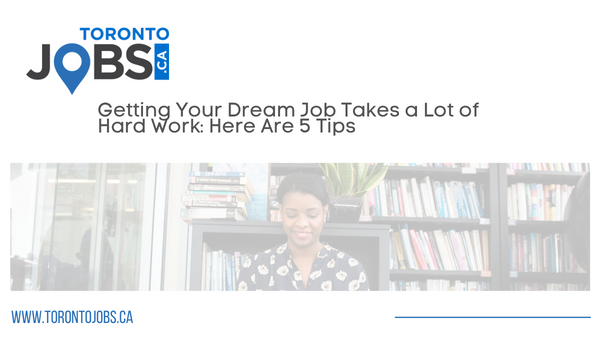 Whether you are a recent graduate or stuck in a career rut, getting your dream job takes a lot of hard work. If you look at the stories of some extremely successful people, they are where they are because they pushed themselves to surpass their limits to get to that point.
So in this article, we are going to give you five ways you can push yourself to the next level to improve your skills set and confidence to propel you forward.
1. Build your skills through learning, volunteering, or freelancing.
In order to get your dream job, you'll need to push yourself to teach yourself everything you need to know about the industry you want to be in. You can do that by taking online courses, finding an organization where you can learn about the specific skills set you are looking to obtain, or starting freelancing to gain experience. For example, if you want to be a writer, are there creative writing courses you can take? Maybe you can volunteer at your local newspaper or search for freelance article writing opportunities, etc.
2. Start building a network.
Moving beyond the points above, you can use your learning and gaining experience as a way to build your network. Connect with your instructors to gain feedback or ask to see if they know of any freelance opportunities. Volunteering is another great way to meet people in your industry, so don't be shy about connecting with others, even if it's just to meet up for coffee to pick their brains – you never know what opportunities this could lead to.
3. Take a lesser job.
This is something you may not want to do because depending on whether you are a recent grad or already in the workforce, you could be taking a financial hit. Sometimes, however, this can be a necessary step to help you progress forward. By starting out at an entry-level position, you can build the basic skills set you need, which can help you move forward in the future.
4. Don't take things personally.
Making a mistake, not getting the job, getting laid off, etc. does not reflect you and what you are capable of doing. It's natural and human for you to make mistakes, especially if you are learning something new and sometimes it may not be the right time for you to move forward – whether it'd be a new opportunity or promotion. Try not to take things personally and know that you are trying and doing your best. Don't give up!
5. Be honest and realistic with yourself.
It's important to have self-awareness. Are you pushing yourself enough to achieve your goals by learning all that you can or taking on new learning opportunities? Are you taking the feedback you get seriously? Sometimes you have to sit down and analyze where you are in your journey and be honest about what you have an haven't been doing. You may also have to take a step back and re-analyze if what you are trying to achieve is doable and makes sense for you to do. This can take a lot of deep work to arrive at the answer.
---
Tired of searching for jobs the traditional way? Have you heard of our new revolutionary recruiting platform called Guhuza? Click
here
to learn more and connect instantly with local employers using our advanced technology.
View All Articles