Canada's unemployment rate rose 5.4% in August
Posted: 09.09.2022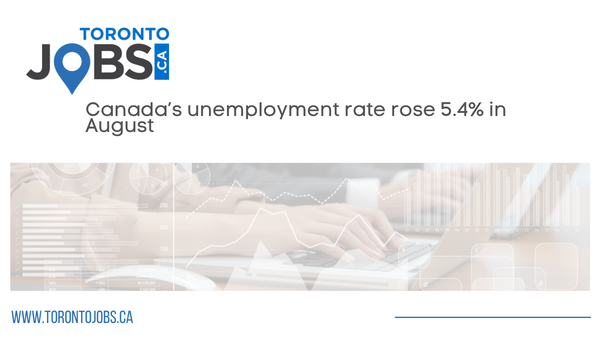 The unemployment rate rose last month for the first time in seven months to 5.4%, increasing by 0.5% from the record low seen in June and July at 4.9%.
Statistic Canada's report also shows that more than one in 10 employees in August or 11.9% wanted to leave their job within the next 12 months, which is 5.5% higher than numbers in January of this year.
There were 307,000 people who left their job in order to retire at some point last year, which is up from 233,000 one year earlier and up 273,000 in August 2019.
The unemployment rate for immigrants within the last five years was lower last month at 7.6% than in any month of August since data became available in 2006.
According to the report, employment decreased by 40,000 or -0.2% last month. It has been on a continuous decline since May 2022.
Gains were seen in various industries, including 14,000 or +0.8% increase in the professional, scientific, and technical services. There were declines in educational services at -50,000 or -3.3% and construction at -28,000 and -1.8%.
Employment fell in other provinces as well – British Columbia, Manitoba, and Nova Scotia – but there were increases in Quebec. Other provinces were little changed.
To read the full report click
here
.
View All Articles