Webinar Recording: "Hire 90% Faster with Guhuza's Live Interview Technology"
Posted: 11.03.2022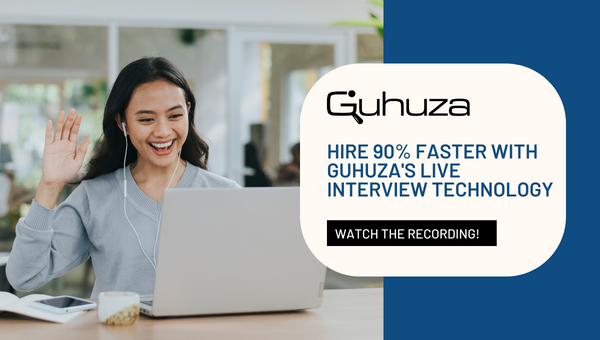 Missed one of our webinar sessions?
Check out the recording of: "Hiring 90% Faster with Guhuza's Live Interview Technology."
In a time when staffing is the biggest challenge for employers in the Greater Toronto Area and beyond, thinking outside the traditional methods (job boards, searching resume databases, relying on referrals, etc.) is a must.
COVID has created many difficulties for employers such as an increase in ghosting from job seekers, and frustratingly long times to fill a position (an average of 36 days to fill a position).
Introducing Guhuza.com, powered by TorontoJobs.ca, where we have developed solutions to these problems.
Join Marc Belaiche, President of Guhuza.com, and Dianne Hunnam-Jones, Guhuza's Chief Revenue Officer, for this 45-minute webinar and Q&A session.
Learn how Guhuza.com has advanced features that will show you how to reduce the time it takes you to find candidates by up to 90%.
We'll also show you how you can have candidates do tests and background screening in minutes right from the platform.
We'll show you how to navigate the platform and answer any questions you might have.
Watch the recording
here
.
View All Articles