5 Digital Literacy Skills Employers Look For
Posted: 11.09.2022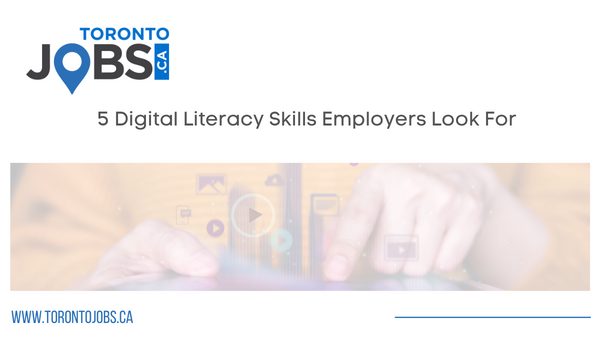 Digital literacy is the ability to evaluate information and messaging across online platforms. Employees who are not digitally fluent may have difficulty communicating with colleagues using unfamiliar tools such as video conferencing or team messaging apps. As a result, productivity can suffer.
Today's digitally driven job market has made this skill necessary in nearly all industries and it is what employers look for. For job seekers, having strong digital skills is essential.
Listed below are five digital literacy skills employers look for:
1. Independent research:
The knowledge of navigating across social media platforms and other digital spaces independently for research is important to workplace growth and demonstrates initiative.
2. Collaboration:
Software tools such as Microsoft Teams and Zoom are used to encourage collaboration in the workplace. Being able to use these platforms and more allows for effective communication among your team throughout the workday.
3. Adapting to new technology:
Each day there are improved rollouts of new tools, technologies, and software, and adapting to these ever-growing changes in the digital space is an asset to the workplace.
4. Knowledge of common platforms:
Experience with basic office software such as Microsoft Office and Google applications is crucial. As Shayne Sherman, CEO of TechLoris says, "Digital literacy means that you know your way around the digital landscape."
5. Explaining technologies you use:
The ability to understand and explain the technologies you use every day will allow you to move forward in your professional growth.
The use of digital technologies is becoming more essential on a global scale as it affects every aspect of business. How do you feel about the job market's digital shift? Let us know by emailing
info@torontojobs.ca
!
References:VerizonBrooklyn Resume Studio
Province of British Columbia
Spice Works
MediumAuthor Bio:
Isha Roy Chowdhury is currently a co-op student at TorontoJobs.ca. She is a Grade 11 student at St. Marcellinus Secondary School who applies her skills to make an impact in this company, while also learning more about the business world.
View All Articles