5 Ways to Show Your Employees You Appreciate Them
Posted: 11.10.2022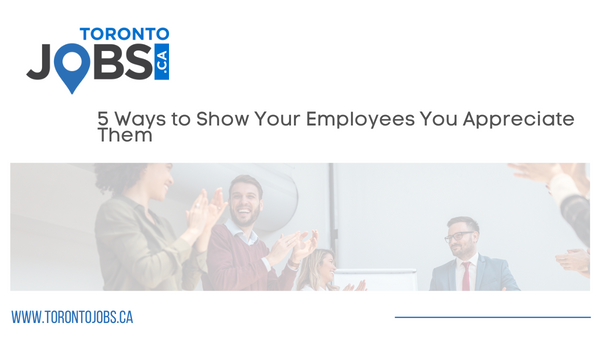 Do you give your employees recognition for their work?
According to a study conducted by
Gallup
, 67% of leaders and 61% of managers say they are giving recognition to their team at least a few times a week, but despite this,
40% of employees still report that they only receive recognition a few times a year if not less.
Showing your employees appreciation from time to time can make a big difference in your organization. When employees feel recognized, they are:
5x more likely to be connected to company culture
4x more likely to be engaged
and 5x more likely to see a path to grow
So in this article, we are going to discuss five ways you can show your team that you appreciate them.
1. Use social media.
Recognition for your employees can go beyond the office. There are many days throughout the year that celebrate various industries, themes, and raise awareness – which is a great place to start. For example, March 8
th
is International Women's Day where you can celebrate the impact women have made in your workplace; May 20
th
is International HR Day; April 27
th
is Administrative Professionals Day; and so on.
2. Give shout-outs in an email or team meeting.
Did one of your employees obtain a new client? Why not give a shout-out to that employee in a Friday email or at the beginning of a team meeting! Not only will it show that you appreciate that employee's hard work, but it can also help to motivate and inspire other employees to do the same.
3. Get other employees involved.
You don't have to be the only one giving employee recognition! Get other members of your team involved to motivate and build your company culture. Nominating an Employee of the Month or handing out awards to all employees at an office Christmas party are great ways to do this.
4. It doesn't always have to be about work.
Giving recognition to your employees doesn't always have to be about achievements in the office – it can be outside of the office as well. Celebrating milestones in life like getting engaged, having a baby, or birthdays are other great ways to show your employees you care.
5. Saying thank you.
A simple thank you can also go a long way.
---
Have you heard of our new recruiting platform called Guhuza? Click
here
to learn more and let Guhuza connect you instantly with local job seekers using our advanced technology. Stop manually searching for your next hire!
In partnership with TorontoJobs.ca.
View All Articles