Employment rate rose by 108,000 in October; unemployment rate held steady at 5.2%
Posted: 11.11.2022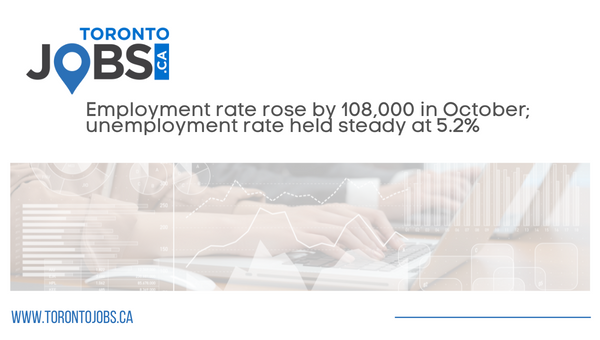 Recouping the losses from May to September, employment rose by +0.6% in October. Employment rose in several industries including manufacturing, construction, accommodation, and food services. This brought back employment on par with the most recent spike in May 2022.
The number of private-sector employees rose for the first time since March 2022.
Employment increased among both men and women between 25 to 54 in October. It was little changed among men and women aged 15 to 24 and those aged 55 and older.
The number of self-employed workers was also little changed last month. This was the third consecutive month of little change. Self-employment is below its pre-pandemic February 2020 level by -7.9%.
More than 1.7 million Canadians (between the ages of 15 and 69) had hybrid work arrangements in October (not seasonally adjusted).
The unemployment rate is 0.3% above the record low numbers we saw in June and July at 4.9%. Last month it was at 5.2%. The adjusted unemployment rate (which includes people who wanted a job but didn't look for one) at 7.1%, which is unchanged.
To read the full report, click
here.
View All Articles