How to List Volunteer Experience on Your Resume
Posted: 11.22.2022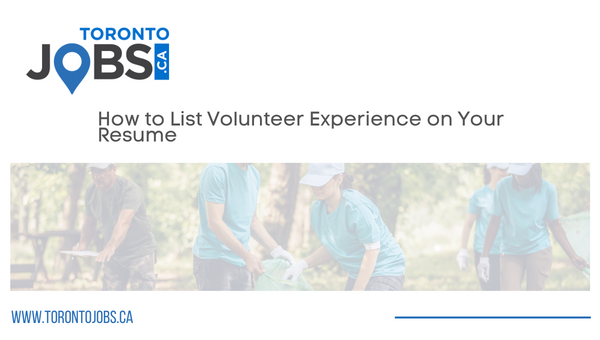 Having volunteer experience as a job seeker can be extremely beneficial. If you are still a student, for example, volunteering mimics some of the work that you may do at a full-time job, giving you some real hands-on experience to put on your resume. There are other benefits too:
Listing volunteer experience can explain a gap in your resume.
It can show an employer a skill you have in addition to your job.
It shows that you value being part of a community.
But how do you list volunteer work on your resume? In this article, we are going to discuss three ways you can showcase your volunteering.
1. List it under your work experience.
You may be thinking that this section in your resume is only meant for paid work – but it isn't! Whether you get paid to do something or not, volunteer work or co-op is still work experience. Just like having a paying job, volunteer work still requires you to be at a shift on time and tasks that you need to complete. Putting any volunteer experience you may have under this section is a great option.
2. Put it under your skills section.
When you are listing out your top skills, you can link your volunteer experience to some of the skills that you add. For example, communication skills while interacting with registrants at the SPCA Friends for Life Walk or organization skills while helping to put together the CIBC Run for the Cure in my community. If you are having some issues with space, this is a great way to maximize it on your resume.
3. Create a separate section.
There is also the option of creating a separate section on your resume to list all your volunteer work. This can be helpful if your volunteer work is completely different from your full-time job, giving you more space to discuss your volunteer role in depth outside of your regular job.
---
Tired of searching for jobs the traditional way? Have you heard of our new revolutionary recruiting platform called Guhuza? Click
here
to learn more and connect instantly with local employers using our advanced technology.
View All Articles