Demonstrating Sustainability at Work
Posted: 11.22.2022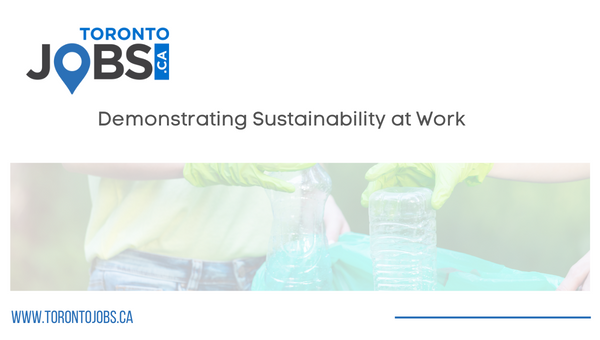 According to 64% of respondents in North America, sustainability should have an influence on business operations.
Business sustainability is the practice of operating a business with the intention of reducing one's negative impact on the environment. By 2060, if the industrial sector does not reduce its carbon emissions by 40%, the planet will warm over 2 degrees Celsius causing rises in sea levels, less access to fresh water, and more harmful effects.
Sustainability practices don't just benefit the environment, they benefit the company as a whole.
The advantages of running a more sustainable company include the reduction of business costs and competitive advantages by increasing consumer satisfaction.
It may not be simple to become more sustainable at first, but the reward is well worth the effort. Here are some pointers to get you going.
●
Recycling at Work:
Recycling prevents waste from going to the landfill and it generates 757,000 jobs each year. You should provide labelled recycling bins in the workplace for item types.
● Encourage Green Commuting:
Green commuting options like biking, carpooling, and the bus could have a significant impact on the environment by reducing daily emissions – encourage employees to do so.
● Provide options for remote work:
Since remote work keeps people off the roads and away from their cars, it lessens harmful environmental impact.
In combination with efforts from governments and stakeholders, businesses that adopt green policies and growth strategies could experience a total of $26 trillion in economic benefits.
How do you demonstrate sustainability at work? Let us know by emailing us at info@torontojobs.ca.
References:
Maryville University
Harvard Business School Online
Author Bio:
Isha Roy Chowdhury is currently a co-op student at TorontoJobs.ca. She is a Grade 11 student at St. Marcellinus Secondary School who applies her skills to make an impact in this company, while also learning more about the business world.
View All Articles