What Gen Z Wants in Their Job Experience
Posted: 12.13.2022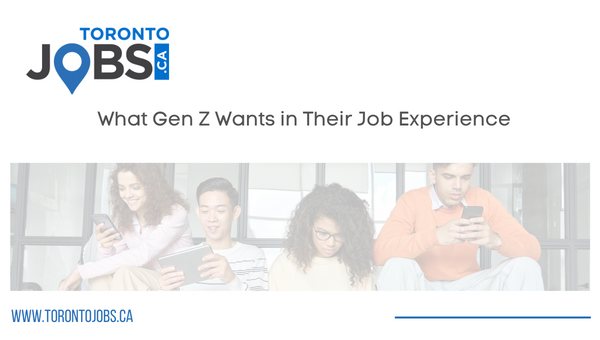 Statistics show that Gen Z will account for 27% of the workforce by 2025.
The COVID-19 pandemic has forced leaders all over the world to re-evaluate the employee experience. Job seekers now have a unique advantage in today's labour market and with Gen Z entering the workforce their expectations on what they require from employers differ from previous generations. Studies show Gen Z wants the following from their work experience:
A company that values the well‐being of its employees.
Ethical management (accounting for morals while overseeing an organization and prioritizing the well-being of employees, customers, and the community).
A sense of purpose (According to studies, 42% of Gen Z would rather work for a company that inspires them than one that offers higher pay).
While research has shown that job security and a respectable salary continue to be top priorities, the factors below remain just as important for Gen Z.
An inclusive and diverse workplace (reports found 23% of Gen Z said they had experienced workplace discrimination).
Mental health support (studies show younger workers still feel a stigma surrounding mental health issues in the workplace still remains and 35% of Gen Z claimed to have missed work because of the pandemic's stress and anxiety).
Eco-friendly work (when deciding which companies to support and align themselves with, Gen Z continues to place a high priority on issues like climate change and the environment).
This new shift in mentality is causing companies to change the way they run and adapt to changing circumstances.
How do you feel about Gen Z's influence on the evolution of the workplace? Let us know by emailing info@torontojobs.ca.

References:
Financial Post
Human Resources Director
CNBC
Indeed
Business Insider
Author Bio:
Isha Roy Chowdhury is currently a co-op student at TorontoJobs.ca. She is a Grade 11 student at St. Marcellinus Secondary School who applies her skills to make an impact in this company, while also learning more about the business world.
View All Articles