Some In-Person Holiday Parties are Back – Here's How to Avoid Getting Sick If You Plan on Attending
Posted: 12.13.2022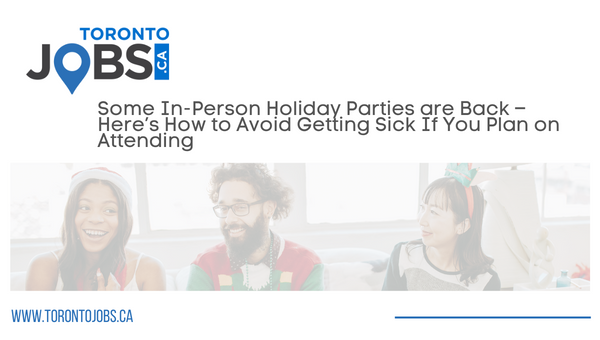 With two years of cancelled holiday work parties because of the COVID-19 pandemic, some companies are bringing them back in full swing this year. But with the rise in COVID, the flu, and RSV cases – gathering for a holiday work party may leave some people feeling a bit hesitant.
So in this article, we are going to give you three tips on how to navigate post-COVID-19 holiday office parties this season.
1. Don't attend or opt on gathering virtually.
A simple way to absolutely ensure that you don't get sick is to either not attend your office holiday party if they are still choosing to have one or decide to instead gather virtually. We know that having a virtual party isn't ideal considering we have had two years of on and off lockdowns, gathering restrictions, and stay-at-home orders, but depending on how comfortable everyone feels with triple-threat viruses, it may be best to change your plans to ensure everyone stays safe.
2. Change up the location to outdoors.
If you really want to have your planned in-person holiday party or you don't want to opt out of going, perhaps a change in location may help ease the hesitancy and increase safety. Consider having an office party that takes place outdoors – like going ice skating, attending an outdoor festival with your co-workers, or going on a winter hike.
3. Limit the number of people you invite.
If you have a larger company, it may also be wise to eliminate the number of people gathering. For example, instead of having one large office party in your building, opt to celebrate the holidays by department, thus eliminating the number of people attending at once.
Are you having an office holiday party this year? If so, what safety precautions are you taking? Let us know by emailing
info@torontojobs.ca
.
---
Have you heard of our new recruiting platform called Guhuza? Click
here
to learn more and let Guhuza connect you instantly with local job seekers using our advanced technology. Stop manually searching for your next hire!
In partnership with TorontoJobs.ca.
View All Articles