3 Reasons Why the Holidays Might Be a Good Time to Work on Growing Your Career
Posted: 12.23.2022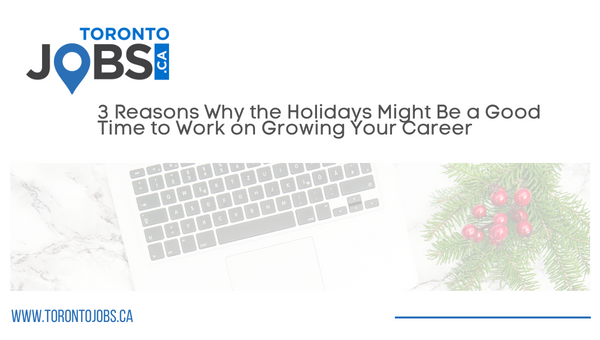 With everyone winding down the year 2022, it may get you thinking that the new year is probably a better time to start working on your career goals – but that's actually not the case!
The holidays can be a great time to implement career goals ahead of the new year. So in this article, we are going to discuss three ways how.
1. There are a lot of networking opportunities.
When the holidays near, there are a lot more ways to network – whether it be at work, within your community, or among your friends. You can use this as an opportunity to find new ways to add more experience to your resume or even promotions! Let's look at a couple of examples:
If you are looking to get experience in social media – perhaps you can spark up a conversation at the local food bank you are volunteering at about how you can dedicate some time to do that and spread the word in the community.
Maybe a conversation with a supervisor at a holiday office party leads to insight about a promotion.
2. Competition is limited.
The advantage of starting your career goals during the holidays is that a lot of people will most likely start working on them in the new year, which can give you an edge if you start around the end of the year.
3. Take on a seasonal job.
If you are looking for more than just volunteer work to gain experience, you could try picking up a seasonal job during the holidays. There are tons of companies and organizations looking for extra help during this busy time of year and you never know where the opportunity could take you – whether it's learning a new skill or earning extra money. Getting to know the people at your seasonal job could also help you if a full-time position opens up (being familiar with the people there and the company can give you a leg up when you apply!).
Bonus Tip! Re-establish connections with holiday messages.
Another great way to increase your networking is to reach out to older contacts in your LinkedIn by sending them a holiday message. This way you can re-establish that you are contacts on your LinkedIn, and you could spark up a conversation about opportunities in the new year and keeping you top of mind if anything ever comes up.
---
Tired of searching for jobs the traditional way? Have you heard of our new revolutionary recruiting platform called Guhuza? Click
here
to learn more and connect instantly with local employers using our advanced technology.
View All Articles