Canada added 150,000 jobs in January and the unemployment rate held steady at 5%
Posted: 02.13.2023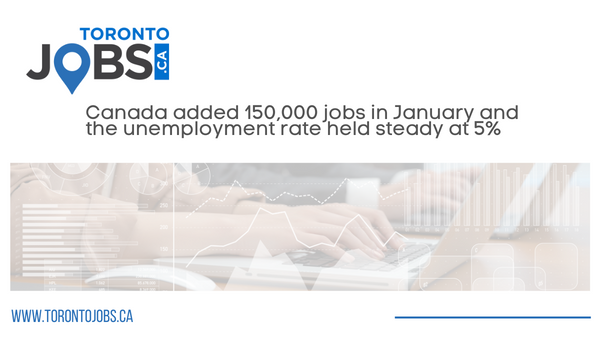 Employment in January increased by 0.8 percent and the unemployment rate held steady at 5 percent.
Employment was seen mainly in full-time work predominately between the ages of 25 and 54 (100,000), with employment also increasing with those 55 and older (43,000). This continues the upward trend of employment that began in September 2022.
Gains were seen across several industries. At the top were wholesale and retail trade (59,000), next health care and social assistance (40,000), followed by educational services (18,000). Employment declined in transportation and warehousing (-17,000).
The number of employees grew in both the private and public sectors, with a growth of 115,000 in private and 32,000 in public. There was little change in growth for self-employed workers.
The total number of hours worked in January rose 0.8% and was up 5.6% on a year-over-year basis.
The unemployment rate was just shy of the record low of 4.9% in June and July 2022, the rate for last month held steady at 5%. The total number of people unemployed stood at 1 million, similar to the level seen in the summer of 2022.
To view the full report you can click
here
.
View All Articles