Unemployment rate remained unchanged at 5.0% in February
Posted: 03.10.2023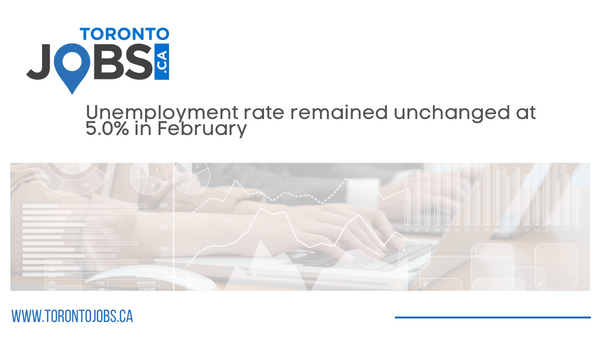 February saw a steady employment growth, rising by +0.1% (22,000).
Here are some of the highlights:
Employment grew in health care and social assistance (+0.6%), public administration (+0.9%), and utilities (+5.0%). At the same time, fewer people working in business, building, and other support services (-1.5%).
Employment was little changed in core-aged adults (25-54 years old) and youth (15-24 years old).
A strong upward trend since August 2022 continued for those aged 55-64, with +0.7% increase last month.
Number of employees grew in the private sector by +0.3% and there was little change in public sector employment and self-employment.
Employment in professional, scientific, and technical services held steady in January and February, following strong growth in 2022.
The unemployment rate held steady at 5.0% in February, just shy of the record-low 4.9% observed in June and July of 2022.
You can read the full report
here
.
View All Articles