Boost your Job Search over the Holidays
Posted: 12.20.2018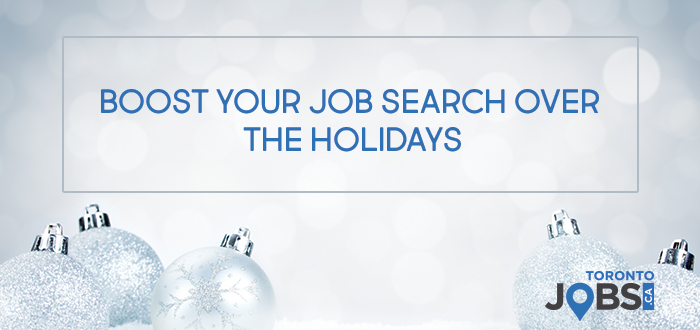 Boost your Job Search over the Holidays
Many people looking for new employment opportunities take time off from their "Job Search" over the holiday season to relax and enjoy time with loved ones. Most people feel that everything shuts down over the Holidays and they can try again in January.
While it is true that many hiring managers may be on Holidays during this time, it's still a great time to make new connections, work on your resume and connect with hiring managers in organizations that you would like to work for.
Below, we give you some top search tips for finding employment this Holiday Season!
1. Fine-tune your Resume
Now is the best time to update your resume whether you are looking for a job or are employed and thinking about making a career change.
Look at your resume as a sales collateral for yourself. Would you buy what you are selling? Really work on your personal brand and paint a very clear picture to your potential employer as to what you can bring to their company growth and bottom line.
Does your resume include a lot of "fluff"? Get rid of it! Include quantitative information and prove why you are a good communicator rather than saying you are a good communicator.
Add in your volunteer experience and any courses you may have taken. Also, update your current position and include any additions/projects you worked on this year.
2. Learn to use Social Media
Use job boards to find out who is hiring, apply and then take it to the next level by following that company on social media. Engage in their posts, make a connection request to their hiring manager on Linkedin and send them a personalized note about how you could enhance and grow their organization.
Use Twitter as a search tool. As an example, search "Toronto Jobs" and you will find an abundance of positions you might not otherwise see on job boards (you may also find some hiring managers to engage with and follow).
Follow companies you want to work for. Most companies have profiles on Facebook, Instagram, Twitter and Linkedin. Follow them, learn more about their organizations. More times than not they will use their social media before external sources to advertise job openings.
3. Create a Career Plan for 2019
Do you have a Career Plan for 2019? Write-down what you want to accomplish this year from a professional stand-point. Break down the plan into achievable steps, create strategies and goals for yourself, make to-do lists and stick to your plan.
4. Connect with your Network
Reach out to your network. Give them a year-in-review of where you are, what you accomplished and what your plans are for 2019. Make a schedule to reach out to your network regularly and stay in touch throughout the course of the year.
Wishing you a Happy Holiday and a prosperous 2019!
Article by:
Rachel Mitchell of TorontoJobs.ca. TorontoJobs.ca is the on-line recruitment website where you can post your resume, search and apply to 100's of jobs in the Greater Toronto Area. You can also get career, interviewing and resume writing tips all at no cost to you. TorontoJobs.ca also provides recruitment services. Since 2002, TorontoJobs.ca has been a local leader in job postings in the GTA. Check out
www.TorontoJobs.ca
or email your resume to
resumes@TorontoJobs.ca
.
View All Articles