Two Ways Employers Can Benefit from Using Social Media & Technology
Posted: 01.20.2021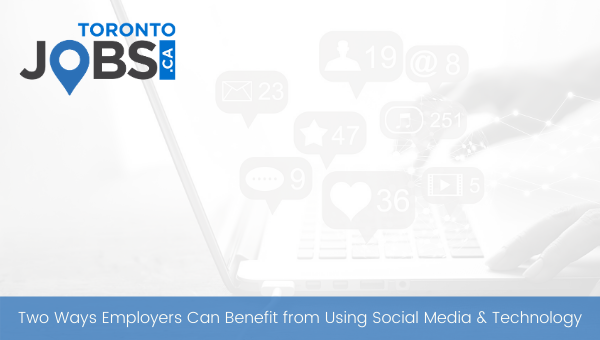 Social media is not just for posting pictures and keeping in touch with friends and family. It can also be used as a tool for businesses and organizations to help elevate their brand and reach a larger audience.
For those in human resources and recruiting, social media and different digital programs can be used to find qualified candidates, managing employees, and much more.
Below are two ways employers can implement social media and technology into their strategies.
1. Using social media to find and vet candidates.
When you're in the process of doing background checks on a prospective candidate, you can use social media as an extra vetting step. What pops up when you Google the person's name? Are there any inappropriate pictures? Did they make any insensitive comments publicly? By doing this you are making sure that the candidate can represent your business and brand professionally.
You can also use tools like LinkedIn to find potential candidates. This platform gives you the opportunity to grow a network of professionals from various fields and by just simply reaching out to one of them they may have the perfect job seeker in mind for you.
2. Using technology to manage employees.
Some companies and organizations are modernizing their employee management processes by going digital with programs like BambooHR, JazzHR, and Namely. You can learn more about these programs in our previous article
here
.
These software help businesses manage its payroll system, hiring process, increase employee engagement, managing employee benefits and vacation, etc.
So, how do you introduce these tools?
It may be harder for senior executives in your company to understand why there's a need to change to digital, especially since they are very well adapted to whatever the current system is. But take the time to understand what your company needs and research the best tool that meets your goal and strategy. Once you're able to do that, you can present how these tools can elevate your business and how it can be a step in the right direction to modernizing your business' strategy in a world where technology is ever-changing.
References:
The Economist
For more content you can check out our Toronto Recruiters YouTube Channel
here
.
Want to attend one of our upcoming virtual events? Click
here
to learn more.
TorontoJobs.ca is a full-service recruitment organization, including TorontoJobs.ca Website, Career Fairs, full-service Recruitment Division and Outplacement Services. The local focus and advanced features make TorontoJobs.ca a vital asset for both job seekers and employers within the Greater Toronto Area. Visit our Online Career Centre for additional articles on Career Development, Personal Branding and more!
View All Articles