Staying Motivated During Your Job Search
Posted: 03.16.2021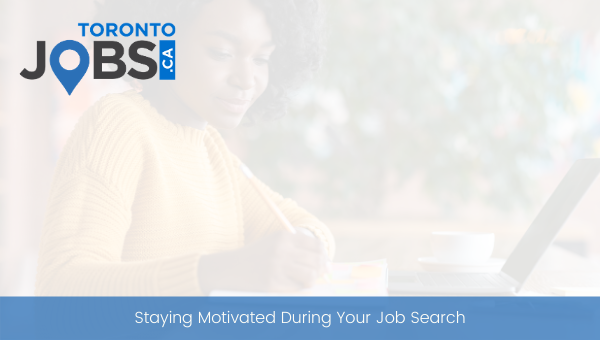 It has been one year since businesses and organizations started working from home, laid off some of their employees, or closed operations completely due to the corona virus pandemic. Despite now having a vaccine, there's still a lot of stress and uncertainty among employers and employees – especially if you find yourself still looking for a job during this time.
Finding a job is already challenging enough and we understand that it can be even more difficult specifically if you have lost your job due to COVID-19. So, we wanted to provide you with some tips on how you can stay motivated in your job search during these tough times. We will also provide you with a few resources to help you in your search.
1. Set goals.
Take some time either at the beginning of the week or the beginning of each day to make a list of all the things you want to accomplish with your job search. It could be that you want to finish writing your resume by the end of the day, you want to spend the beginning of the week updating your LinkedIn profile, or you want to apply to five jobs by the end of the week, etc.
2. Make learning a priority.
We're in a unique position where we are spending most of our time at home due to closures and social-distancing measures, so it can be a great opportunity to take some online courses. Whether you want to pick up a new skill or improve on a current one, there are tons of online resources out there that allow you to study online. Check out this article
here
for some options.
3. Keep building your network.
Use LinkedIn and other social media platforms to your benefit. Reach out to hiring managers at various companies and ask if there are any opportunities available. Connect with others in your industry and ask them for advice on how you can improve your resume or if they may know anyone who is looking to hire. Check up on your previous manager to see if they are looking for anyone or may know of someone who is hiring.
4. Volunteer in the meantime.
Although not ideal because a lot of volunteer or co-op positions are unpaid, it's still a great way to get experience and connect you with people in your industry.
5. Sign up to job alerts.
This can help a lot because it many ways it does the follow-up for you. For example, instead of checking back everyday if a position has been filled, you can set an alert to let you know if a specific organization is still hiring or you can also get alerts when a new job in your area of interest has been added to a job board. To sign up for job alerts from TorontoJobs.ca, you can click
here
.
6. Research inspiring leaders in your field.
Take some time to read about inspiring success stories or analyze the LinkedIn profiles of successful leaders in your industry. You can learn a lot through this exercise – where did their career start out and how did they work their way up? Did they take extra courses? How did they overcome their struggles? You can apply the things that you have learned from this exercise into your own job search.
7. Take time to clear your mind.
It can be easy to forget to take breaks when you are looking for a job but taking breaks to clear your mind is very important. Taking breaks can help you get into a better mindset when writing your cover letter and resume or put you in a better mood when making connections.
8. Think about changes to your industry.
How will your industry change post-pandemic? Knowing the answer to this can help you better your job search. Do you need to pick up a specific skill set? If so, you may need to take an online course. Will your industry thrive after the pandemic? If not, what other industry could use your education and experience? This exercise isn't about completely changing your career path, but about recognizing that there will be some changes to many businesses and organizations after the pandemic, and as a job seeker you want to be prepared for what's potentially next to come.
For more career tips and advice, you can watch all our videos on our TorontoJobs.ca YouTube Channel
here
.
Want to attend one of our upcoming virtual events? Click
here
to learn more.
TorontoJobs.ca is a full-service recruitment organization, including TorontoJobs.ca Website, Career Fairs, full-service Recruitment Division and Outplacement Services. The local focus and advanced features make TorontoJobs.ca a vital asset for both job seekers and employers within the Greater Toronto Area. Visit our Online Career Centre for additional articles on Career Development, Personal Branding and more.
View All Articles