Recruiter Buzzwords
Posted: 05.05.2021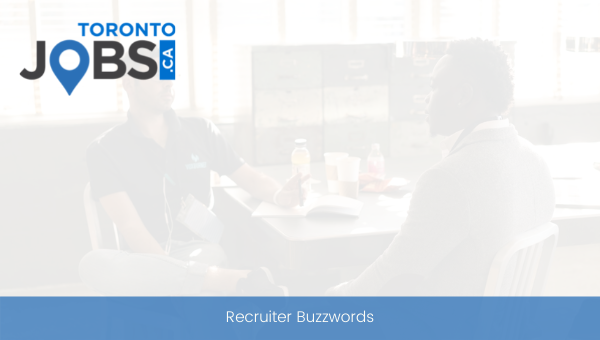 Are you an aspiring recruiter or a small business owner making your first hire?
You've probably come across terminology like onboarding, talent pipeline, or job board… but do you know what they mean?
Below we have complied a list of common recruitment terms and unpacked their meaning to help you get a head start!
Talent Acquisition:
This is sort of a new term, but it's just another name for someone who is a recruiter or someone who acquires talent for a company.
Onboarding:
This refers to the process of bringing someone into the organization or company after they have been hired. During this phase is when the new hire would get their workspace, receive their laptop, receive a training program, and whatever else they need to get them up to speed.
Outplacement:
These are services that are designed to help those who have been terminated to find another job. It can be in the form of coaching, resume mining, etc. Check out TorontoJobs.ca's Outplacement Services
here
as an example.
Head-hunter:
This is generally someone who works in a recruiting firm and their job is to look for talent. The term is quite out-dated, but if at any point you do come across this term, you'll know that it's in reference to someone who is in recruiting. Some other terms people may use to describe recruiters:
Staffing Consultant
Recruiting Manager
Senior Staffing Consultant
Talent Acquisition (like mentioned above)
Corporate Recruiter:
This is a recruiter who searches for positions for their own internal organization, as opposed to recruiters who work at staffing agencies, where they are helping their clients find staff.
Talent Pipeline:
Refers to your pool of candidates for a particular role.
Culture Fit:
Refers to how a potential hire could fit or mesh into your organization.
ATS (Applicant Tracking System):
Organizations and companies can use this as a way to keep track of candidates like when they applied, where they are in the hiring process, how to contact them, etc.
Boolean Search:
These are searches that allow you to use word or phrases such as "and," "or," "not," etc., in order to get better search results when you are searching for candidates on a job board or a resume database.
Job Board:
Is a portal for companies and organizations to post their job openings. Check out TorontoJobs.ca's Job Board
here
as an example.
Employee Turnover:
Used to describe how frequently employees leave an organization. So for example, a high turnover rate may indicate that there are problems within the organization and they may be having difficultly keeping staff.
Watch Marc Belaiche, CPA, CA, President of TorontoJobs.ca discuss this topic
here
.
For more tips and advice, you can watch all our videos on our Toronto Recruiters YouTube Channel
here
.
Want to attend one of our upcoming virtual events? Click
here
to learn more.
TorontoJobs.ca is a full-service recruitment organization, including TorontoJobs.ca Website, Career Fairs, full-service Recruitment Division and Outplacement Services. The local focus and advanced features make TorontoJobs.ca a vital asset for both job seekers and employers within the Greater Toronto Area. Visit our Online Career Centre for additional articles on Career Development, Personal Branding and more.
View All Articles