How to Answer the "Are You Willing to Relocate?" Question
Posted: 07.13.2021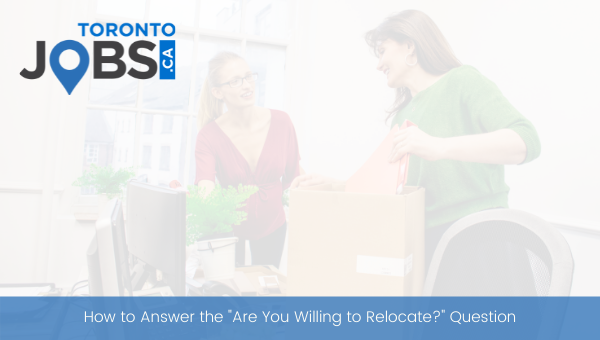 While it may not come up as often as "Why do you want to work for us?", the "Are you willing to relocate?" question does pop up from time to time.
If you are a job seeker who hasn't been asked this question in an interview yet, you may be thinking the answer is pretty straight forward – either you're willing to or you're not willing to relocate.
However, the reality of this question is that it's not and below we discuss why.
If Your Answer is "Yes"
For job seekers who are looking for a new job, it's not uncommon for them to also be interested in a different lifestyle, which comes with relocation. Furthermore, if the employer does ask you this question, it's almost certain that the company may ask you to relocate at some point in the future.
Quick note:
The question may be used as a method to differentiate eligible candidates. Therefore, if you really want the job, but don't really care about relocating, it does you no good to answer "yes" just because you're going with the flow of the interview.
So if you are inclining towards "yes", the two most common scenarios are:
1. Truly Interested in Relocating
If you're interested in moving, be enthusiastic about it (employers appreciate this type of answer). Also, do your research on the company and try asking about the new location and the relocation process.
Most employers will offer a compensation package to
relocation employees
in order to help with expenses and make the process easier for everyone involved. However, the size of this package and the perks it includes are different from one employee to another. So, it's best to know your own needs in terms of relocation.
For instance, do you need temporary housing, access to education facilities, help with finding a place to live, assistance for your spouse, a cash allowance, assistance with the moving process, and so on. Also, mention you are
open to negotiations
.
Quick note
: There are situations where the relocation package (regardless of its content) is fixed. Still, if your needs don't match the employer's view, you should consider opening negotiations. It may be a failed attempt, but you never know the result unless you try.
2. Just Thinking About Relocation
If you are not 100% certain that you are willing to change cities, countries, or even continents, be honest about it.
A perfectly acceptable answer sounds something like this:
I may be willing to relocate if the change suits my lifestyle at that moment in the future.
You can also answer with:
I am not entirely certain right now, but my current situation allows me to relocate without disrupting my close one's lives. However, I won't relocate to a smaller/bigger city.
Overall, it's important to make your conditions known so the employer can assess your compatibility with their plans for the position they are hiring for.
If Your Answer is "No"
There are situations when you really, really want the job, but you're definitely not interested in relocating (now or in the future).
In this case, it's important to figure out the reason behind the question.
There are times when the hiring manager wants to see if you understand their global brand (or if you've done your research). By asking if you want to relocate, they test if you are up to date with their overall brand presence and company culture.
Some other times, the question tries to test your commitment to the brand (if you're in for the long-term) and flexibility. In this case, the relocation possibility is not even mentioned in the job description, so the question may feel a bit out of the blue.
In both cases, try answering with something like this:
Right now, I am not interested in relocation, however, should the possibility present itself down the road, I will take it into consideration.
Conclusion
At the end of the day, a job relocation usually brings new networking possibilities, a raise (not mandatory), and it provides
good references
for any future job you may want to take. Such a career move shows you are a dedicated professional who is flexible and reliable.
Author Bio:
Cristina Par is a content specialist with a passion for writing articles that bridge the gap between brands and their audiences. She believes that high-quality content plus the right link building strategies can turn the tables for businesses small and large.
View All Articles