Seven Tips for Getting Back on the Career Ladder If You Lose Job During COVID-19
Posted: 01.11.2022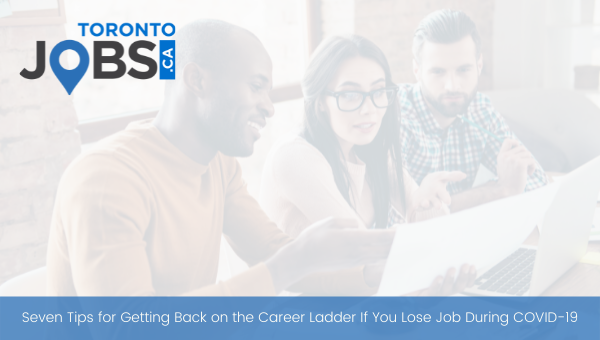 Millions of people lost their jobs during Covid-19, as consecutive lockdowns led to companies shutting down. Fortunately, the economy seems to be recovering and businesses are re-hiring. As business resumes, it is important to know how to get back on the career ladder in order for employers to take notice.
Although the government continues to offer relief to help people get by, you need to take things into your hands for greater security. This is what we will be discussing in this article. It shares some of the best tips that will make your job hunting experience post-COVID-19 easier.
Here is what you can do if you have lost your job and want to get back on the career ladder.
1. Create an impressive resume.
The first thing that you need to do to get back on the career ladder is to create an impressive resume. It is the only way that you can expect to get noticed by employers. With more people competing for the same job, you must improve your CV. The following will allow you to create a master CV:
Start strong by mentioning a summary of your key accomplishments and skills.
Emphasize the results that you have achieved.
Use power words to instantly draw attention to your resume.
Share industry insights to form a connection.
Highlight career growth and changes.
Customize your resume for the job you apply to.
Make sure to double-check for spelling and grammar mistakes. Besides this, it is important that you have someone check your resume to find ways to improve it.
2. Embrace LinkedIn.
LinkedIn is the best platform for applying for jobs and connecting with recruiters. As companies are always advertising vacancies on the website, you need to apply for jobs on LinkedIn. However, you will have to ensure that your profile is up to date and professional before you apply to any vacancy.
Moreover, it is also a good idea to get in touch with your connections as you never know who might be able to offer you a job. Even a post on LinkedIn about your job search could bear fruit. Hence, you should never underestimate the platform.
3. Check for vacancies on social media.
Another great tip that you should consider is checking social media. There is a chance that companies would post vacancies on social media platforms like Facebook, Instagram, and even Twitter. Thus, you should not overlook these sites as they could help you land a job.
Furthermore, employers review social media presence to get an idea about job applicants, which is why you need to make sure that your accounts appear professional. It also makes sense to restrict who can see your accounts to avoid making the wrong impression.
4. Improve your skills set.
When you stop learning, you stop earning. It could not be truer post-pandemic. There are countless online learning platforms that you can use to improve your skills. Start by mastering numeracy and digital skills. Enroll in courses to become a pro in PowerPoint, Word, and Excel.
Whether you want to brush up on existing skills or learn new ones, you can rest assured that learning will help you land a job and get back on the career ladder. You can even use LinkedIn to access learning resources.
5. Be flexible.
If you want to get a job and have a lucrative career, you need to be flexible. Expanding on your learning will allow you to apply to jobs that have more openings, offer long-term stability, and pay a good salary. The following roles are in demand:
Software Developer
Project Manager
Sales Representative
Customer Service Specialist
IT Administrator
IT Support
Graphic Designer
Financial Analyst
Even if you have no experience in the above fields, you should still consider applying after learning crucial skills. Being flexible is all about applying to jobs that you never even knew that you could take.
As the saying goes, "Don't knock it till you try it," it is something that you need to live by to make it in today's age. Making a shift into a growing industry is possibly the best decision that you can make. Besides, many skills are completely transferrable. You just have to be clever about how you use them to your advantage.
6. Apply for jobs in person.
In addition to applying for jobs online, you also need to get out and about. Head to the nearest bank, mall, community center, and government office and find out if they have any openings. The fact is that not every job is advertised online.
Ask people you know if there is any job opening. You never know who might be able to help you get employed. If any of your friends work at a stable company, you should reach out to them. Going public with your job search is something that you might need to do if you are struggling to find work.
7. Be patient.
Lastly, you just need to be patient and put the time in. Check job sites daily and apply for work on a regular basis. Be prepared to change your CV to apply to different roles. Create covering letters that demonstrate why you would make the perfect fit for the role.
A bit of patience and perseverance will help you to get back on the career ladder. You never know, as you might just end up finding a better job that pays more and offers great security.
In the meantime, you must look after your mental health. Many people are struggling to find a job, and you are not alone. As more companies start to hire, you need to keep applying.
Takeaway
Getting back on the career ladder after losing your job during Covid-19 just got a whole lot easier with our tips. From creating an impressive resume to being patient, it is only a matter of time until you land the perfect job.
Author BioMyrah Abrar is a computer science graduate with a passion for web development and digital marketing. She writes blog articles for Dynamologic Solutions, Digital Marketing.
View All Articles