Etiquette Tips When You Resign from Your Job
Posted: 03.11.2022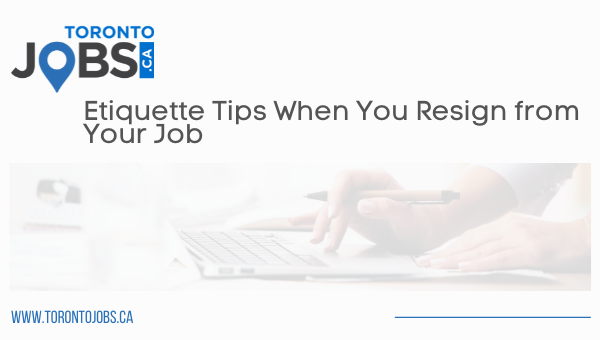 As an employee, it is important to follow well-known etiquette tips when handing in your resignation. Acting in a professional manner and following the right steps can help maintain a good relationship between you and the employer throughout the entire process. It can also help to maintain that connection after you leave – like when you need a reference from your previous employer.
Below are some tips to keep in mind when you are resigning from your job.
1. Give two weeks' notice.
It is common practice to at least give two weeks' notice when you would like to resign from your job. This helps both you and the employer iron out anything you would need from your employer before you leave and helps the employer prepare for your departure until they find a replacement.
**Note: Please check your contract to ensure you are following company guidelines, if there are any, for resignation.
2. Tender your resignation.
This is a formal way of telling your manager or supervisor that you are leaving your job. This is given prior to your two weeks' notice and it's very common to do this in a form of documentation like a letter for example. Keep the letter short and simple, only outline important details like when your last day is and perhaps a couple of thoughtful comments about the employer.
3. Have respect.
Don't use your resignation as a time to list all the reasons why you hated working at the company (if that is the case) or don't list all the things the company should change when you leave. If you have some
constructive
feedback that you would like to provide to your employer, sometimes employers will have something that's called an exit interview, which allows employees to give their perspective as a staff member working at the company. If you get the opportunity to do that, you can get a little insight
here
from one of our previous articles.
4. Say goodbye to your co-workers.
It's always good practice to say goodbye to your co-workers and wish them well, even if you don't have a working relationship with them. Sending a quick email to those you didn't work on many projects with should suffice, for those who you have worked with a lot, having a chat with them before you leave is best.
**Tip: Ensure you are connected with some colleagues, even your manager, on LinkedIn. It's always beneficial to stay connected in a professional way – you'll never know when you need a reference or even advice!
Written with references from:
The Balance Careers
.
Tired of searching for jobs the traditional way? Have you heard of our new revolutionary recruiting platform called Guhuza? Click
here
to learn more and connect instantly with local employers using our advanced technology.
TorontoJobs.ca is a full-service recruitment organization, including TorontoJobs.ca Website, Career Fairs, full-service Recruitment Division and Outplacement Services. The local focus and advanced features make TorontoJobs.ca a vital asset for both job seekers and employers within the Greater Toronto Area. Visit our Online Career Centre for additional articles on Career Development, Personal Branding and more!
View All Articles