5 Career Goals for the New Year
Posted: 01.11.2023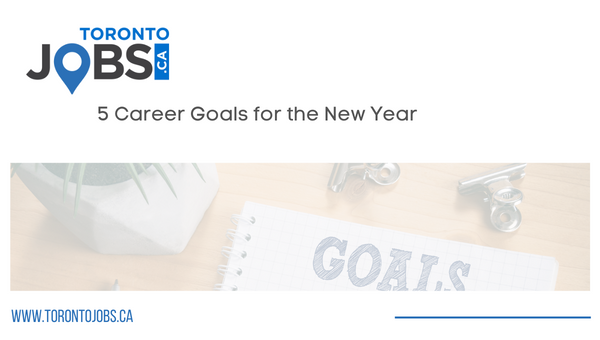 The start of a new year is the perfect time to set goals. Although many people tend to set health and fitness goals around this time of year, setting any new goal is fair game too.
So, in this article, we are going to discuss five career goals anyone can set for themselves in 2023!
1. Develop a new skill.
You are never too old to learn something new! Why not set a goal to learn a new skill or two this year? No matter where you are in your career, take some time to look at the current skills set you have and what can be added to the list. Once you figure that out, you can start to research how you are going to attain that new skill or skills, whether it'd be through volunteering, taking an online course, or something that can be self-taught.
2. Connect with more professionals.
It never hurts to grow your network because you never know what it could lead to – whether it's a new job, promotion, or salary increase! Perhaps you could aim to find a new connection every month – LinkedIn is a very easy place to start. If you do this, it means that by the end of the year, you will have added 12 new connections to your network!
3. Subscribe to a relevant newsletter subscription.
This is an easy way for you to stay up-to-date with relevant content and topics within your industry. But don't feel like it must be something related to your job. Maybe it's something motivational or funny that can bring some positivity and ease into your workday. The sky is the limit!
4. Keep your inbox clutter-free.
We've all been guilty of neglecting to clean out your inbox, but it's an important part of keeping organized at work. Aim to clear out unwanted emails on a weekly basis to keep your inbox clutter-free. We recommend doing it on a Friday as everyone winds down the week and so you can start fresh on Monday!
5. Reduce stress.
Everyone experiences stress at work, but it's important to keep it in check so you don't get too overwhelmed. Make sure you are taking appropriate breaks during the day and speak up if your workload seems to be increasing too much. It's also important that you leave work at work when you finish for the day to allow yourself to decompress at the end of the day.
What goals have you set yourself this year? Let us know by emailing
info@torontojobs.ca
.
---
Guhuza is created in partnership with
TorontoJobs.ca
.
Guhuza is the new way of recruitment. It is an innovative Canadian platform that goes beyond the features of a traditional job board. It uses breakthrough technology to instantly match employers and job seekers for the ultimate hiring experience.
Our advanced technology matches job seekers' profiles with jobs on our site and ranks them for employers based on the skills required for the position. Once the match has been made, live interviews can be conducted right through our platform.
Visit
Guhuza.com
or our
Knowledge Base
to learn more.
View All Articles