Random Act of Kindness Day – 10 Ways to Show Kindness in the Office
Posted: 02.17.2023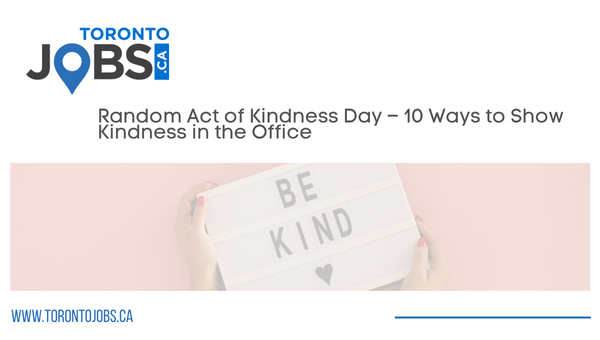 Random Act of Kindness Day
(February 17
th
) was initiated in 1995 in Denver, Colorado by a non-profit organization called The Random Act of Kindness Foundation. The event eventually spread to New Zealand and the observance of the holiday became more and more prominent over time.
The idea behind random acts of kindness is to just simply brighten someone's day and it doesn't have to be anything major either! You may think that doing something small is insignificant, but anything kind, large or small, can truly make an impact on someone else's day and can lead to more positive acts by that person.
Here are 10 ways you can show random acts of kindness in the office, whether you're in person or working remotely!
Smile when you're walking past someone in the office or in a Zoom meeting.
Leave an inspirational sticky note on a co-worker's desk or send one through email.
Have lunch or spark up a conversation with a new hire to help them feel more at ease.
Ask a co-worker about their kid(s).
Give a genuine recommendation on one of your co-worker's LinkedIn profiles.
Refrain from speaking negatively and concentrate on being positive.
Offer to help a colleague out if they have too much on their plate.
Celebrate a colleague's moment of success.
Show appreciation to your manager.
If it's not a busy day, give your staff an extra half hour for lunch.
How do you show kindness to your employees or co-workers in the workplace? Let us know and send us an email to
info@torontojobs.ca.
---
Guhuza is created in partnership with
TorontoJobs.ca
.
Guhuza is the new way of recruitment. It is an innovative Canadian platform that goes beyond the features of a traditional job board. It uses breakthrough technology to instantly match employers and job seekers for the ultimate hiring experience.
Our advanced technology matches job seekers' profiles with jobs on our site and ranks them for employers based on the skills required for the position. Once the match has been made, live interviews can be conducted right through our platform.
Visit
Guhuza.com
or our
Knowledge Base
to learn more.
View All Articles