National Employee Appreciation Day – History & Ways to Show Your Employees You Care
Posted: 03.03.2023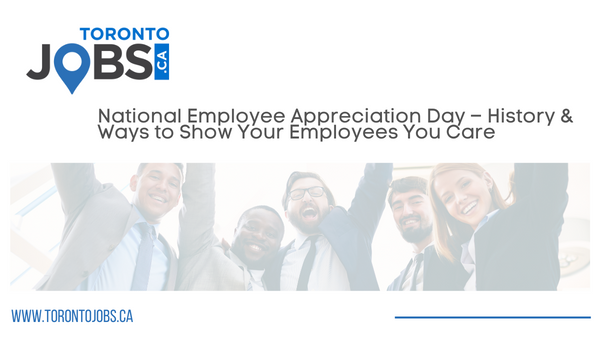 Today (March 3
rd
, 2023) is
National Employee Appreciation Day
.
Where did it come from?
Employee Appreciation Day was launched in 1995 by Workman Publishing as a day to remind managers that a strong employer-employee relationship is at the core of any successful business. When employees feel validated it creates a positive working environment, a strong team, and retained talent.
Did you know?
The concept of minimum wage was introduced in Victoria, Australia in 1896 when authorities established waged boards tasked with determining minimum pay.
The U.S. Labor Department was introduced in 1913 by President Taft with the goal of promoting the welfare of workers, job seekers, and retirees.
Over 40% of workers say they left their jobs due to stress.
The average office chair roles almost 13 kilometres every year.
The average office worker spends 50 minutes a day looking for lost files or items.
How to show your employees you appreciate them?
A simple thank you can go a long way.
Celebrate milestones – whether it's a work anniversary, getting your first sale, major project completion, a personal milestone, etc.
Provide training opportunities to show your employees that you want them to grow with you. For example, you can give them training or shadowing opportunities.
Encourage work-life balance by reminding employees to use their vacation days, for example.
Ask your employees for feedback and incorporate suggestions into your workplace practices and policies.
Show respect and appreciation towards your employees' cultural and religious holidays and traditions.
How do you show your employees that you appreciate them? Let us know by emailing
info@torontojobs.ca
.
---
Guhuza is created in partnership with
TorontoJobs.ca
.
Guhuza is the new way of recruitment. It is an innovative Canadian platform that goes beyond the features of a traditional job board. It uses breakthrough technology to instantly match employers and job seekers for the ultimate hiring experience.
Our advanced technology matches job seekers' profiles with jobs on our site and ranks them for employers based on the skills required for the position. Once the match has been made, live interviews can be conducted right through our platform.
Visit
Guhuza.com
or our
Knowledge Base
to learn more.
View All Articles