6 Ways to Promote Gender Equality in the Workplace
Posted: 03.08.2023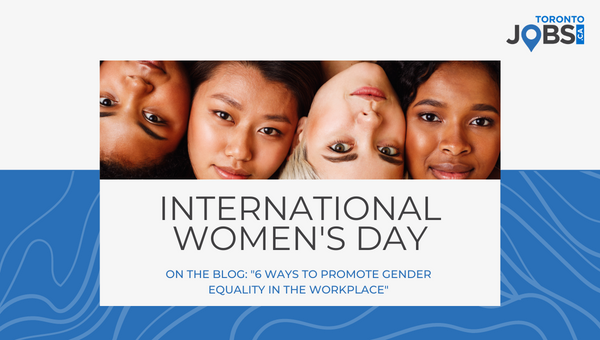 Today is
International Women's Day
, a day where we get to celebrate the social, economic, cultural, and political achievements of women. It's also a day that marks a call to action for accelerating women's equality.
IWD has occurred all over the world for well over a century, with its first gathering in 1911 supported by over a million people.
This year's campaign
theme
is #EmbraceEquality.
In this article, we discuss six ways companies can promote and embrace gender equality in the workplace – not just today – but all year round.
1. Increase diversity through hiring.
If your company is hiring, you can start by modifying your job description to help broaden your pool of candidates. For example, think about the language you are using and whether they are
masculine biased words
like "dominate" or "assertive." If you have a hiring panel, ensure it is diverse in gender. And when doing exit interviews, it's important to ask your employees about their feedback on gender equality in the office, so you can make improvements to practices accordingly.
2. Use skill-based assessment.
As part of your hiring process, asking prospective employees to work through tasks that they will be expected to perform when they're hired helps to hire someone based on performance, rather than answers to a standardized list of questions in an interview.
3.
Work-life balance should be a priority.
Gender equality in the workplace becomes more prominent after women have children. Maternity and parental leave can help with this, but the option of workplaces being more flexible helps combat this further. For example, the company Zurich, and insurance company in the UK, became the first firm to advertise all its vacancies with the options of "part-time," "job-share," or "flexible working," and it saw an increase of
16% in women applying for jobs
.
4. Have more training.
Ensure you review training material frequently to make sure that it promotes best practices for gender equality and discrimination in the workplace. Consider having training on a more frequent basis (like once a year for example) to review this information with your employees, especially with those who are in more senior positions. You can also ask for feedback from your staff about what more can be considered in your training materials.
5. Lengthen your shortlist.
Researchers writing in the
Harvard Business Review
suggested that adding an additional three candidates to an initial shortlist saw the women-to-men ratio rise from 1:6 to 1:4. An extended shortlist has shown to create greater diversity because it pushes managers to think beyond gender stereotypes associated with roles, especially male-dominated ones.
6. Make salaries transparent.
Your company can conduct office-wide audits for salaries to ensure that men and women who are in the same role in the workplace are getting paid equally.
Written with references from:Indeed
World Economic Forum
BetterUp
---
Guhuza is created in partnership with
TorontoJobs.ca
.
Guhuza is the new way of recruitment. It is an innovative Canadian platform that goes beyond the features of a traditional job board. It uses breakthrough technology to instantly match employers and job seekers for the ultimate hiring experience.
Our advanced technology matches job seekers' profiles with jobs on our site and ranks them for employers based on the skills required for the position. Once the match has been made, live interviews can be conducted right through our platform.
Visit
Guhuza.com
or our
Knowledge Base
to learn more.
View All Articles