National Organize Your Home Office Day: 5 Tips for Organizing Your Home Office
Posted: 03.14.2023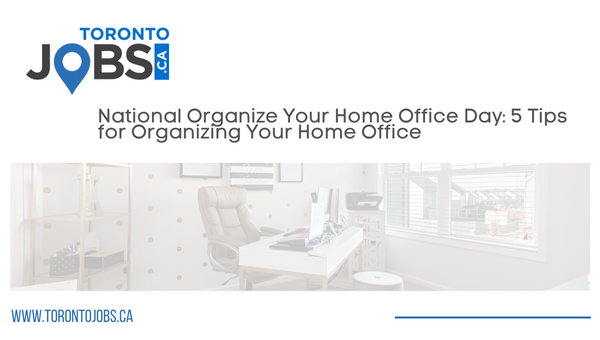 Today is
National Organize Your Home Office Day
(March 14
th
, 2023).
It was created by homeofficelife.com to remind us to keep our workspace tidy and manageable.
There is no clear evidence as to when home offices became a concept, but it's said to have become more widespread in the 2000s, most notably in 2008, after the financial crisis and full-time jobs became scarce, sparking the gig economy.
So in this article, we are going to discuss five ways you can organize your home office, which can help you reduce stress and increase productivity.
1. Declutter your space.
Before you even begin to organize your office space, you'll want to start off by decluttering your area and getting rid of things you no longer need. This can include:
Getting rid of anything that doesn't belong in your office.
Throwing out anything that's broken or outdated.
If you have a lot of loose papers, look into digitalizing some of them to clear out the space.
2. Organize paperwork you are keeping.
If you are keeping some physical copies of paperwork, the next thing you should consider doing is organizing your paperwork so that it's easy to locate when you are needing it. Keeping it in a pile will only cause more paperwork to pile up and stress in your workspace. You can:
Ensure you go over your paperwork on a regular basis to get rid of anything you don't need or digitalize anything that makes sense.
Consider getting a filing cabinet to keep your paperwork organized.
Label your paperwork or keep them in different folders to make them easier to find.
3. Use organizers for your desk.
Keeping your desk organized can help you stay more productive. With less clutter, you can remain less distracted and find things more easily when you need them.
Only keep essentials on your desk like your compute, keyboard, mouse, paperwork you refer to regularly, pens, notepads, etc.
Use baskets, jars, or other desk organizers to keep your pens, highlighters, pins, etc. handy.
4. Add more storage space.
Depending on how big your office is you can add more storage space if necessary to keep things organized. If you have a smaller office, consider getting a desk that has a lot of drawers so you can tuck things away. If you have a larger office, you could always add an extra filing cabinet or shelving unit.
5. Add a calendar.
Adding a calendar can help you keep on top of your work and to-do list. You can add important dates, holidays, due dates, meeting times, etc. and visually look at your entire month so you can manage your time better, overall creating less stress.
---
Guhuza is created in partnership with
TorontoJobs.ca
.
Guhuza is the new way of recruitment. It is an innovative Canadian platform that goes beyond the features of a traditional job board. It uses breakthrough technology to instantly match employers and job seekers for the ultimate hiring experience.
Our advanced technology matches job seekers' profiles with jobs on our site and ranks them for employers based on the skills required for the position. Once the match has been made, live interviews can be conducted right through our platform.
Visit
Guhuza.com
or our
Knowledge Base
to learn more.
View All Articles